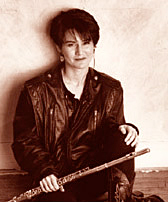 Photo by Sandra Eisner
When asked if gender has had an influence on my compositions, my reaction was of surprise—surprise that I hadn't been asked that question before, not in 20 years of performing. I've been interviewed by the press, radio, television, and during panel discussions. There have always been questions regarding the experience and difficulties of being a woman in the jazz profession, but not about the ways gender might affect my compositional style. I hadn't thought much about it.
In reflecting on that question, I will respond in two parts. I can't say that I've ever thought about it consciously, nor that I have any specific ideas about how gender affects my writing style. I have never sat down and tried to write anything that I thought would reflect my gender or tried to write a piece that would have "feminine qualities." I've never thought about masculine or feminine qualities of music, but instead about color, tension, beauty, contrast, density, transparency, intensity, tranquility, groove, feel, etc.
For example, my most recent writing projects have been for my septet. Many of the pieces that I've written for this group have been influenced by Bartók, Stravinsky, and Ives. From the conceptual to the specific, each piece incorporates an idea into the jazz idiom, whether it be rhythmic, motivic, metric, or through orchestration. I use this as a way to expand the form for improvisation. Other influences include context, hearing something new that I want to learn about or explore, visual art, and other musicians who inspire me.
The second part of the answer is simply that my compositions (hopefully) reflect who I am, my experiences, feelings, and musical tastes. Since I'm obviously a woman, it's probable that my experiences as a woman are reflected in my "world view," shaping who I am and my music in turn.