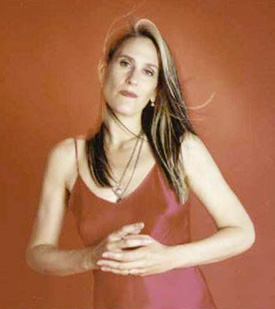 Photo by Stephanie Berger
I am a singer first—then a composer. Singing is the direct and immediate expression of my experience. My voice finds form inside my body, so, at that fundamental level, gender forms my music. To quote a Joel Forrester tune that I often sing, "I am what I am and that's all."
My voice is a product of classical vocal training, which I continue to pursue today. I didn't set out to become a jazz singer. My music grew out of relationships with jazz musicians because they were the most capable of playing my musical ideas. Early performances developed song by song without a stylistic or musical agenda. I have been as inspired by Laura Nyro, Jimi Hendrix, Merle Haggard, Puccini, or Mozart, as I have been by Abbey Lincoln, Coltrane, Mingus, or Miles.
I sing to tell stories. Song is a distilled story, corralled by melody and time. I want to express my cultural location, historical time and point of view. My life, imagined experiences, laments, furies, and desires become song.
I compose two distinct kinds of works. I call one type morphed tunes and the other straight-ahead songwriting. The morphed (or recombinant) tunes are assembled by layering multiple melodic and lyrical sources. By using overlay and collage with diverse sources, employing their individual nuances, and manipulating the assonance and dissonance occurring between them, the original materials become juxtaposed in ways that create a new composition. New works spring from the fragments of others through this kind of sampling or mash up idea (see Neil Strauss's "Spreading by the Web: Pop's Bootleg Remix," NY Times, 5/9/2002).
I draw from jazz, popular, classical, and traditional American folk motifs. Removing a section of music from its original context and placing it in a new relationship shifts the thing itself. An example of this would be a piece I call "Killer/Run." In this work, I introduce the first 16 bars of Benny Golson's "Killer Joe," having overlaid the guitar and drum riff from Jimi Hendrix's "Machine Gun." On top of the mix I sing the melody and lyrics from Credence Clearwater Revival's "Run Through the Jungle," along with some of my own melodies and lyrics. Then "The Battle Hymn of the Republic" is sung over an improvised instrumental section. The resulting montage creates a cacophony of recollection. The listener engages with familiar cadences, recalling their own personal experiences and thereby addressing the conflicting emotions of war.
I have always been intrigued by the deep feelings stirred and called forward with the stimulation of memory. For me, growing up as a girl in the rock-n-roll culture of the late '70s, I often felt outside of music and objectified by popular song. One way I have specifically engaged this is by changing a song's gender pronoun or singing a tune in the first person. That simple action shifts meaning and reflects considerably on the historical content of the song. An example of this is my treatment of the Jagger/Richard's tune "Ruby Tuesday." Singing the song in the first person makes it mine—about me—and it becomes an anthem of personal freedom:
Ask me why I need to be so free?
I'm gonna tell you it's the only way to be.
I just won't be chained,
To a life where nothing's gained,
And nothing's lost,
At such a cost.

Say goodbye to Ruby Tuesday.
You can't hang a name on me.
When I change with every new day,
You're gonna miss me.
The listener recognizes the lyrics, but the shift draws them into a new intimacy with the material. I am curious about the way songs give solace, incite a group, or define a position. In my straight-ahead songwriting, I am currently working on a new song cycle: the working title is Breaking Tradition. It is a cycle of compositions drawn largely from American folk and operatic musical motifs, employing only whispers of source material and hinting at familiar songs. I am attempting to relate hymns and anthems to pop and love songs—how the spiritual and corporal, the sacred and secular intersect—in order to expose the paradoxes and contradictions that abound in cultural metaphors and myths.
One song I have completed for Breaking Tradition is called "What I Want," which moves from a jaunty 4/4 country pop feel into an anthemic æ section. It investigates the timeless well of ceaseless yearning and never ending want—not explored as a sexual theme, typical of a female pop song, but as something common to the human condition. Want, and discovering our lack of power over that want, is a right of passage from childhood to adulthood. I wanted the voice to become the rhythm section as the soloists improvise over a repeated lyric. The voice (word and sound) is the frame of the tune—inverting the usual role and position of the vocal lyric as supported by instrumental elements. This change of roles between voice and instrument makes the tune become, in a way, what it is describing.
Song can capture beauty, declare grief, or profess yearning for communion. I am searching through songs to reveal a new story, one with deep roots into the honored soul of the past