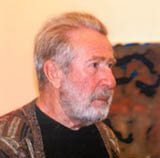 Michael Goldberg
I'm a music lover with two formidable defects, an extremely lazy ear and what I believe is the onset of the loss of hearing. Despite this, I listen to music all the time I'm in my studio: almost any type of music, but mostly jazz or what I prefer to call improvised music.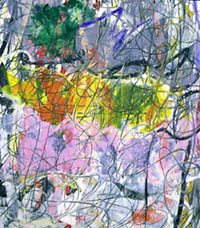 Michael Goldberg: Grand Sichuan, 2000. Oil and oilstick on canvas, 40 x 35.5 inches. Lennon, Weinberg Gallery, New York
Image courtesy Michael Goldberg

Unless I deliberately set out to just listen, music fills up the space around me, particularly when I'm working. I'm able to play music very loud and use it to keep the outside world outside. As a painter I find this to be necessary. But the marvel when something that's playing breaks into my concentration and I really hear what the player or players are doing is usually thrilling.
[Ed. Note: Read Michael Goldberg's extensive conversation with John Zorn for BOMB Magazine.]