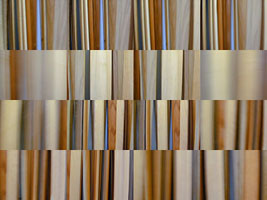 Digital still from Fields (Home Depot), 2002
Courtesy of the artist and Gee's Bend
With my video works I am interested in the patterning and form that comes from chance associations, both analog and digital, through repetition and re-mixing, similarity and difference. I often work with image fragments and mix them into a new form. In this way I am very influenced by how many people work with sound. Often the cadence that emerges from a video work comprised of fragments that build over time functions, for me, as a kind of imagined visual sound.
Recently I got an iPod and am trying to listen to and share as much music as I can, allowing the "shuffle" function to surprise me with new combinations of works previously unknown to me, a series of bird songs or music from Gee's Bend. While working, I always wear headphones.