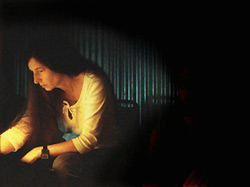 Maggi Payne
Photo by Joe Johnston
Science has long been of interest to me. It often intersects with my work, especially in my early oscilloscope film, Orion, in my videomicrography works, Crystal and Io, in the use of bow shock interactions in Solar Wind, in the flame speaker that Nick Bertoni and I built as Artists-in-Residence at the Exploratorium in the early '80s, in my use of Apollo and Space Shuttle images and sound sources in Apparent Horizon, in the use of my Jacob's ladder in System Test, and in my interest in creating changing virtual acoustic architectural spaces in all my works (most overtly noticeable in Resonant Places). Although not formally trained in the sciences, it is through acoustics that I have learned something of physics.
In the visual works, Orion, Crystal, Io, and Apparent Horizon, the science is manifest in the beauty and complexity of the images. In Solar Wind, the audio tapes given to me by Fred Scarf (TRW, for NASA) of the synthesized highly time-compressed, frequency-shifted audio representations of bow shock interactions of Saturn and Venus with the solar wind as observed by Voyager, Voyager-2, and the Pioneer-Venus Orbiter are the sole source materials for the piece. In Apparent Horizon the sound sources consisted of transmissions from/through space and were from Space Shuttle and Apollo missions, satellite transmissions, and shortwave radio broadcasts. The primary sound source in System Test is a Jacob's ladder which I built.
Although it is not essential for the listeners/viewers to be familiar with scientific or technological principles in these pieces, I do hope that experiencing these works will spark their interest in these phenomena. The more subtle spatial concerns that are present in all of my works (shaping the perceived space, localization, and spatialization) should be apparent to astute listeners. I attempt to develop an all-encompassing environment—to enter the sound and be carried with it, hearing/seeing it from the inside out in intimate detail. All of my work is sound-driven: each grows and evolves as do crystals forming under the microscope.