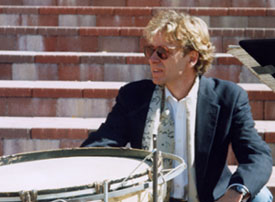 Allen Otte
Photo by Keith Wahle
To decide if any given composition is the vehicle for a conspiracy between its composer and me, I'm looking for that information which enables me to know if I can want what the composer wants. It is neither too much nor probably even too little specificity that influences that decision, so much as finding some sense that my instruments and I are (respectfully) needed in just that situation. I know my instruments, my technique, my sensibilities about timing and projection, very well; if I'm convinced that some composer, beyond his/her articulation of idea, structure, "what if this were thought to be music", has some clarity about my role as well, I'm quite happy to follow any level of specificity. Or lack of it; I'm happy for the invitation/opportunity to contribute my expertise on any of these levels, and in truth, I suppose it's quite important to feel that that knowledge is not only recognized, but also welcomed.
I like that percussion remains, forever I think, a region of sonic mysteries that needs co-conspirators. There are untold sonic mysteries to be conjured out of computers, but that is mostly done un seul. In my world of the planet's invented and still to be found percussion instruments—resonances brought to life by touch—we need each other, and enjoy the satisfaction of that need.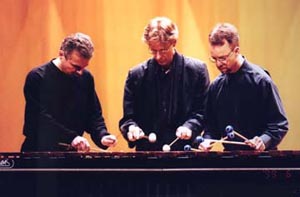 Allen Otte [middle] in Performance with Percussion Group Cincinnati (also pictured James Culley [left] and Russell Burge [right])
Photo courtesy Percussion Group Cincinnati
All that said, I miss the galaxy of beautiful fanciful imaginative so-called "graphic" scores of, mostly, the '60s. I miss too the beautiful manuscripts of so many composers, including many of my friends. Though I of course understand the labor it saves, I regret that the computer has come to be used not very much to further experimental individual notations and works, but rather as a tool to produce standardized notations: mostly musical staves and ciphers of past centuries not at all conducive to the advancement or reading/learning/performing of new percussion music; indeed, promoting rather conservative if not simply unimaginative thought processes about percussion instruments and their players.