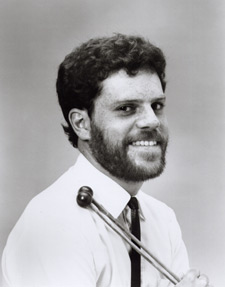 Daniel Druckman
My advice to young composers who want to write better and more idiomatically for percussion is: spend some time at the library.
After 20-plus years of playing contemporary music in New York and teaching courses in percussion writing for composers at Columbia and Juilliard, I've noticed a disturbing trend; that along with the healthy and vibrant influence of pop music and world music on young composers, there seems to be a flip side of disinterest or disinclination to study the music of past masters.
There is no substitute for knowledge, and this kind of lack of "chops" would never be condoned in any performer. So please, spend some quality time with Bartok and Stravinsky and Boulez and Berio and Carter and Davidowsky and Reich and Mackey; check out what they do, and how they do it. Then, feel free to follow your muse and reject the past—you'll be doing so from a base of knowledge rather than one of ignorance.