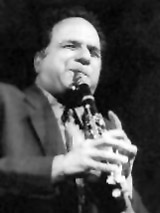 David Krakauer
Photo by Bogdan Krezel, courtesy Aleba Gartner
Improvising in Klezmer Music falls basically into two categories. One is the ornamenting of set (traditional or original) melodies. The other is improvising in an open, rhapsodic form—most often the "doina" (a kind of cross between a Rumanian shepherd's song and cantorial singing). In both instances there is a set of riffs and strategies that I was able to glean from the old klezmer recordings of the 1920–50's (what I call the klezmer "Berlitz tapes"). With the traditional melodies I stick (for the most part) to the basic ornaments. However, in more open forms I use the "Berlitz tapes" material as a backbone, and add overtones, alternate (1/4 tone) fingerings, blues, funk, jazz, shofar, electric guitar shrieks, etc. Then I mix and match as it comes using a kaleidoscope of these constant elements. After that it's a pretty unconscious process, so my improvisations are bound to sound quite different. However, over time, each improvisation develops a certain "worked out" quality that comes from the effort to achieve an emotional arc within a particular piece.
In fact, I've always been incredibly inspired by listening to alternate takes of improvisations of the great jazz masters. These (plus live vs. studio performances) are a whole university of the art form, and illustrate the balance between a pre-planned compositional control and the veering off into the realm of surprise.