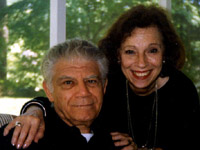 Cecile and Irwin Bazelon
Photo courtesy Cecile Bazelon
When an American composer dies, too often his music dies with him. I had heard Bud lament this fact many times. An unexpected inheritance from his Aunt Ethabelle in the late '80s enabled him to continue recording his works. No matter how fast technology changes, with CDs it is possible to aurally preserve the music.
Buddy unexpectedly died in August 1995. I felt it was mandatory for me to continue recording CDs. However, without the invaluable help of Harold Farberman, long a champion of Bud's music, as well as the continuing commitment of Albany Records, I could not have managed. Bud had already completed two CDs on the Albany label and had overseen a third with the Bournemouth Symphony, which he did not hear completed. Since his death, with Harold's unfailing aid there has been a CD of chamber works, two orchestral CDs with the Rousse Symphony in Bulgaria, and a third to be released shortly with the Sofia Symphony; a fourth is in the works.
In addition, CRI recently brought out a second CD on their American Masters series.
Buddy had made no provisions for his archives, but only days after his death the Library of Congress called requesting them. With help from Richard Rodney Bennett, his musical legacy has been properly housed for posterity. Fortunately Bud's scores are all available: five through Boosey & Hawkes, one at Novello, and more than 60 works through Theodore Presser.
Also, Professor David Harold Cox, chair of music at University College Cork, Ireland, another of Bud's fans, wrote a bio-bibliography for Greenwood Press published this past fall.
I don't want conductors or performers saying that the widow is pestering them, so largely I try to rely on publishers and recordings to be effective. Many musical colleagues feel that Irwin Bazelon was a major composer who did not get sufficient due in his lifetime. I am certain in the future he will!