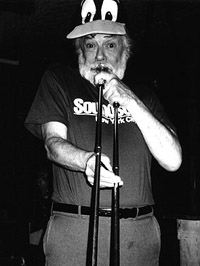 Roswell Rudd
Photo by Verna Gillis
Herbie's father, mother, brother and sister's family were all alive when he died in 1963, but he died intestate.
In a Billie Holiday book, there was a very nice keyboard arrangement of "Lady Sings The Blues" which sounds a lot like Herbie. Only someone with his hands could play it.
This is the only thing I've ever seen that might be construed as sheet music publication of the composer. So, his "published" music is in the form of trio recordings he made for Blue Note and Bethlehem.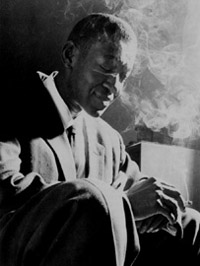 Herbie Nichols
Photo courtesy Jazz Composers Collective
Herbie was very generous to me, and we worked on some of his stuff together between 1960 and 1962. He was finding new directions in himself that were revolutionary. Some of these pieces are definitely in another place compared to the Blue Note/Bethlehem Trio recordings. There were 27 pieces that he wrote out for us which were unpublished and unrecorded.
Herbie, when he finally signed off on these things, told me to do whatever I wanted to with the music. So I feel that I lived up to my agreement with him. I've recorded 15 of those 27, as many as we could, in a rather unconventional way, with a guitarist and a drummer. And within the last year and a half, I put together a collection of all 27 unpublished pieces of music I had. Gerard and Sarzin put it out.
Allison, Kimbrough and Horton have gone down to the Library of Congress and have found more unpublished works and have performed and recorded some of them for their Herbie Nichols Project.
There are no big campaigns that I know of to put Herbie Nichols stage center. I wish there were. But all over the planet you'll find people playing this music, people in Europe, people in Japan, people in Africa, as well as the Americas… There are more of us than ever before that know and love his music and play it and derive spiritual benefits from it.