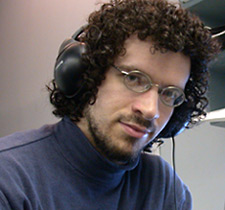 Ian Moss
Earlier this month, several hundred musicians, industry representatives, and lawyers descended upon George Washington University's Lisner Auditorium for the Future of Music Coalition's 5th Annual Policy Summit. FMC was founded by rocker Jenny Toomey in 2000 as an advocacy organization purporting to represent artists' interests in the face of the rapid evolution of digital technology and the laws and policies governing intellectual property. Not surprisingly, those issues dominated the three-day conference, which featured appearances by FCC Commissioner Jonathan Adelstein, RIAA Chairman and CEO Mitch Bainwol, CDBaby.com founder Derek Sivers, REM bassist Mike Mills, Senator Maria Cantwell (D-WA), Public Enemy co-founder Hank Shocklee, and legendary funkmaster George Clinton, among many others.
Here's a quick summary of impressions from this composer who was in attendance:
While even the RIAA's Mitch Bainwol acknowledged that piracy on peer-to-peer networks is never going to go away, there does seem to be a definite trend toward "legitimizing" digital downloads, spearheaded by the success of the iTunes Music Store and affirmed by the recent 9-0 Supreme Court decision in the so-called "Grokster case." The current intellectual property battles center around three issues: 1) how best to monetize the existing avenues for distributing music online and what the appropriate price point should be; 2) whether digital downloads qualify as a "performance" and are thus subject to licensing by performing rights organizations, particularly in the context of podcasts; 3) whether there should be a compulsory performance license for sampling purposes, the same way that there is for recordings.


Did you know that classical is the third-best selling genre on iTunes? This tidbit came form Magnatune founder John Buckman, whose own small online record label features classical as the number-one selling genre. (Of course, in the case of Magnatune, "classical" means mostly Renaissance- and baroque-era music on period instruments, but we'll take what we can get.)


One issue that came up but was never really thoroughly discussed was the subject of how the current system of collecting fees for intellectual property can be a burden on musical genres and communities that do not enjoy mass-market appeal. An afternoon session on how best to utilize the PROs (ASCAP, BMI, and SESAC) quickly turned into a referendum on this very topic, with an attendee from the Folk Alliance claiming that several well-respected venues were recently forced to shut down in part because they could not afford the appropriate licensing fees. It raises the question of how artists, composers, and PROs can do more to be sensitive to the larger ecology of niche music markets.





A recurring theme throughout the conference was that there is simply not much money to be made in selling CDs, even for big-name artists. Most musicians make their living from their live shows and their merchandise. That's news to me, as a composer/musician who has routinely taken in $20 or less from the door at gigs that were better attended than some of the shows I see in New York, but I guess I'll take their word for it. One avenue for substantial income that many composers may not have considered is licensing one's existing music for use in films and television programs.


The final panel, "The 'Unheard' Music," was of most direct interest to the new music community, with representation from pianist Matthew Shipp as well as Meet The Composer head honcho Heather Hitchens and IAJE President Suzan Jenkins. It was an interesting gambit on the part of the FMC organizers to pair the abovementioned three panelists with representatives from Smithsonian Folkways Recordings, djDIY.com (a site focusing on electronica artists), Just Plain Folks, and XM Satellite Radio's "Unsigned" channel. The implication, of course, was that all genres of music marginalized within the industry are essentially in the same boat, a concept that I think is very important for the classical and jazz communities to embrace. Case in point: Billy Zero, program director of XM's "Unsigned," reported that he receives approximately 350 CDs a week, of which 80-90 percent qualify as some variety of indie rock. Yet Zero claims that he is open to playing any genre of music, including classical, if the opportunity were to present itself. A quick browse through the "classical" section of indie music darling myspace.com (also known as the most-visited website in the galaxy) turns up major-label artists Kronos Quartet and Hilary Hahn, a small handful of under-30 composers, and a whole bunch of classical guitarists. Composers would do well to become hip to the methods that unsigned rock bands and underground rappers, among others, are using to level the playing field and hustle for attention. I suspect we may find the mainstream more accepting of what we have to offer than we might expect.
Kudos to the kind folks at Future of Music Coalition for confronting these issues head-on and for reaching out to the classical and jazz communities for inclusion in these events. Hopefully classical and jazz musicians will reach back and attend next year's policy summit, 'cause they sure were few and far between at this one! Luckily, you can go back in time and relive some of the highlights by visiting the summit's website–click on the "Audio" or "Video" buttons to experience the discussions firsthand.
Recommended viewing/listening: