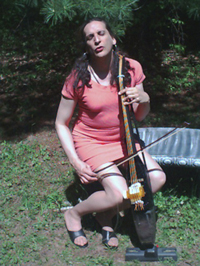 Nicole V. Gagné playing her Attis-Viol
Photo by Cathryn Platine
The term "built environment" is ordinarily used to distinguish the terrains of houses and buildings from the landscapes of the natural environment. When used to discuss music, it directs attention straight to the composer/musicians who make their own instruments. The American penchant for instrument building is essentially a 20th-century phenomenon—in part because the relative newness of so many instruments in the 18th and 19th centuries itself provided a certain spirit of original construction. Yet glimmers of the tradition become discernable later in the 19th century. In 1874, Elisha Gray patented the "Musical Telegraph," a one-octave keyboard controlling electromagnetic tones. Charles Ives described somewhat ruefully how his father George had "rigged up a contrivance to stretch 24 or more violin strings and tuned them up to suit the dictates of his own curiosity. […] He started to apply a system of bows to be released by weights, which would sustain the chords, but in this process he was suppressed by the family and a few of the neighbors." Not all the innovations came from the fringe, however. John Philip Sousa recalled conducting the United States Marine Band in the 1890s, when his ensemble employed "a B-Bb bass tuba of circular form known as a 'Helicon.' It was all right enough for street-parade work, but its tone was apt to shoot ahead too prominently and explosively to suit me for concert performances." He consulted the Philadelphia instrument manufacturer J.W. Pepper about "constructing a bass instrument in which the bell would turn upwards and be adjustable for concert purposes. He built one and, grateful to me for the suggestion, called it a Sousaphone." And the beloved brass boomer has been with us ever since.
The history of American instrument building has many pathways. It involves instances of what might be called an aesthetic of instrument building—American composer-musicians (inevitably the same person) becoming inventor-builders (ditto!) in order to articulate a music which they can't hear on available instruments. It also includes a wide range of music played on non-instruments, from unusual percussion arsenals to the devotees of recycled and found materials, as well as radical reconsiderations of traditional instruments: preparations, new performance techniques, retuning. Another key ingredient in many of these new instruments has been electricity.
Inner Pages: