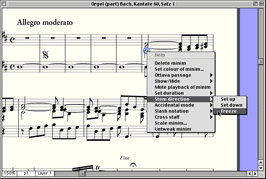 Screenshot from Igor Engraver 1.5
Image courtesy of NoteHeads
As much as computers and word processing software have changed how this article was written, music notation software has transformed music scoring and publishing. For the past couple of years, Sibelius and Coda's Finale have dominated the field, but quietly coming up on the inside is Igor Engraver from NoteHeads AB. The Swedish company recently announced the release of Igor Engraver 1.5, now available for both Macintosh and Windows platforms.
"With the cross-platform version of Igor Engraver 1.5, NoteHeads takes a major step forward," says Johan Lundberg, CEO of Noteheads. "We can now prove that we have the best platform for creating and publishing sheet music and for e-commerce distribution. We believe that our product line is the optimum choice for music publishers, engravers, arrangers, musicians, and music educators." It's a strongly worded claim and only time will tell, as they say, if their faith in the product equals customer satisfaction. But Gunilla Östberg, the NoteHeads Marketing and Sales Director, shares Lundberg's confidence, explaining that the software successfully "combines Finale's powerful control over all the aspects of music notation and layouts with Sibelius' easiness to learn and use."
Igor Engraver was introduced for the Macintosh in June 2000, originally offered as freeware to attract users to the product. The latest version has a price tag attached, but even though the special 30-day discount offered when the product first launched has already expired, the full retail price of $295 is still lower than Finale ($380) or Sibelius ($599).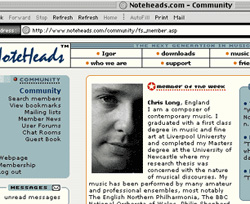 The Community Page
Image courtesy of NoteHeads
NoteHeads is promoting the product as the 'best-of-all-worlds', a powerful yet user-friendly alternative to other notation software. Music can be entered by computer or MIDI keyboard in combination with some click-and-drag moves. Several Quicktime movies posted on their Web site demonstrate the entry process and the software's various features. Based on a library of over 300 instruments, the system is sophisticated enough to recognize and warn the user about notes that would be difficult if not impossible for a musicians to play. Parts and scores are linked together and created simultaneously.
Igor Engraver is also designed to enable easy upgrades and to run compatibly with a variety of plug-ins. A one-click updating system automatically fetches the latest improvements from a NoteHeads' ftp account, so the user can always work with the newest version.
Also a point of pride for NoteHeads is the quality of Igor Engraver's MIDI playback. The "What You See Is What You Hear" technology, as it has been termed, was developed in-house and is touted by the company for its impressive realism when interpreting such things as trills, arpeggios, and glissandos.
The program was designed by composer Peter Bengtson in conjunction with a team of programming and music experts that includes composer/Los Angeles Philharmonic Music Director Esa-Pekka Salonen. Salonen is quoted on the Noteheads.com site, explaining: "
It has been my dream for years to have a notation/MIDI program, that 'thinks' like me, i.e. a composer of modern classical music. A program that understands the workings of harmonics, microintervals and unconventional playing techniques. A program that has no limitations in terms of complex rhythm and meter. A program that can read articulation, dynamics and expression on the fly, as you feed in the notes on a MIDI keyboard."
Possibly going head to head with SibeliusMusic.com, the company is also pushing the Igor Engraver's e-commerce capabilities — the Engraver IGP files can be posted on the Internet and viewed and printed by any user who has downloaded the free Igor Reader from the NoteHeads site. "Publishers, composers, teachers with educational material, and so on, can market and sell their material on NoteHeads Music Stand," Östberg says, but admits that they have only just begun to build up their catalog. Eventually they hope to be a vendor of a wide variety of music and expand beyond the current classical offerings.
Östberg illustrates the importance of this particular capability in today's marketplace. "Buying sheet music via the Internet is the way for the future." Because if the high cost of printing and distributing sheet music, fewer and fewer retailers are selling it. "Selling sheet music via the Internet gives great advantages: low or no costs for storage, printing and distribution, the customer can view and listen to the music before he/she decides to buy it, you can print it on your own printer from home and much lower costs for the consumer." So any musicians interested in doing a little online exploring can search catalogs, listen to MIDI samples of the music, and buy what they like in one continuous process. "We hope that this also means that consumers will be more open minded to new unknown music. We do sell sheet music every day even with the low content that we have. But we believe that this business will become much more important in the future."
Also in step with Sibelius' site, NoteHeads is fostering an online community of composers and publishers. Members are invited to post and sell their scores (NoteHeads takes a 50 percent cut, but composers set the price) in addition to obtaining a personal web page and access to forums, chat rooms, job listings, and competitions. Publishers are offered space on the site to promote and sell their music (at a 70/30 split with NoteHeads) and their own sub-domain with forums and chat rooms. For those interested, samples of both individual and publisher pages are available on the site. As of early September, the community included 5000 members, many with their own Web pages where they introduce themselves and their music.
Looking at the long term, Östberg says, NoteHeads hopes to see Igor Engraver become the de facto standard for music notation. On the Web, they hope both the Music Stand and the Community help musicians offer their music to a global market, while at the same time increasing the availability of music to the consumers. Just how well they will fare and how much of a territorial battle they will have to fight with established software such as Sibelius and Finale will surely be shown in the coming months.