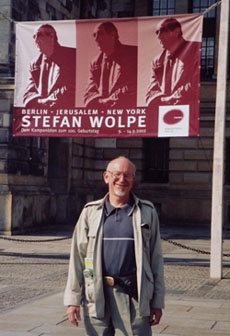 Austin Clarkson in front of the Konzerthaus in Berlin, where they held the week-long Wolpe Festival in September 2002.
An interview with the editor of On the Music of Stefan Wolpe: Essays and Recollections
Molly Sheridan: A number of scholars contributed essays to this collection on the music of Stefan Wolpe and quite a few years went into its preparation. What was your underlying motivation to put all of this together?
Austin Clarkson: Well, I was a student of Wolpe's and I knew right away that he was an incredibly important person not only in my life but in many other people's lives as well. When I came back to Toronto to teach at York University I took a larger and larger role in preserving his legacy because it had been left in a deplorable state. He had been sick for the last 10 years of his life and very few pieces had been published. He was very little known and so I gradually took charge of being general editor of his music and his writings. And now 30 years later most of his music is published and we have this first book on his music.
Molly Sheridan: Knowing Wolpe's work as you do, I'm curious about your opinion of how America, being in America specifically and writing here, how that affected his work. In what sense is he an American composer?
Austin Clarkson: Like many Europeans who came over as refugees, basically from Hitler's Germany, he was dislocated and had no reputation ahead of him the way Krenek and Hindemith and a couple of others had. So in his mid-30s he had to start from the ground up again. He didn't fit in well with many Americans. He was such a brilliant personality and also a bit of a square peg in a round hole when it came to fitting into conservatories and music schools and universities here. He didn't have a decent job until he was in his mid-50s when he got a very poor paying one at the C.W. Post Campus of Long Island University. So he was always an outsider aesthetically in his music and also as a personality.
Molly Sheridan: As director of publications for the Stefan Wolpe Society you have edited a great deal of Wolpe's writing and compositions. What do you think his work has to say to us today?
Austin Clarkson: It is an aesthetic of liberation combined with a strong social conscience. He was a Marxist, a kind of spiritual Marxist, not a literal Marxist, but he had that attitude–that the artist must be in service to the interests of the people. Even though his music can indeed be very, very complex, he also wrote very simple music, simple songs for people. Some of his work demands the most of the greatest musicians, but I've found that the greatest musicians are challenged enormously and feel greatly rewarded by his music. So it seems to have staying power, it seems to have a message for people today.
Molly Sheridan: Considering his personal politics and philosophies, as you were just saying, do you think that America was the best place for him to be working during his lifetime.
Austin Clarkson: Absolutely. In fact, I think that he blossomed in America and he indeed wanted to be known as an American composer. He was not like Hindemith who went immediately back to Europe after the war or Krenek who didn't seem to care where he was. Wolpe was committed to the American scene and gave enormously to the younger composers who were his students. He taught students who became successful in modern jazz, in film and theater, as well as in concert music, because he was so committed to passing along his vision of music to new composers. And he had a tremendous interest in jazz. He taught a course on jazz at C.W. Post, he was intimate with many jazz musicians, and he felt that jazz had an enormous amount to contribute to concert music. So he was definitely an American composer.
Molly Sheridan: The book repeatedly mentions how the political times in which he lived affected his career, plus on a personal level, he dealt with a lack of recognition for his music and ideas, yet it seemed he was beloved by his students and that he himself remained an optimist. Since you were a student of his and have devoted a lot of yourself professionally to his work since his death, what are your personal impressions of Wolpe as a man and as a composer.
Austin Clarkson: He energized everybody in his circle and people came away from meetings and conversations with him enormously inspired. I called him a seismic event. Whenever one was in his presence it was like being in the presence of some force of nature. In interviews which I've done with dozens of his students, friends, and associates I've heard the same story time and again–that he had such a gift for seeing into people's lives and into their gifts that he was an amazing mentor. Instead of making people depressed about how little they knew, he would give them confidence in what they did and got them going.
Molly Sheridan: As you approached other people about contributing to this book, did you find that they had similar impressions and stories of Wolpe.
Austin Clarkson: By and large yes. Some of the people who contributed to the book knew him well: his widow, the poet Hilda Morley; the art critic Dore Ashton. They knew him very well from the early '50s when he was active in the art scene in New York. Then again, the second generation of scholars who didn't know him seemed to be fascinated by his work and the challenges his thought presents.
Molly Sheridan: Which of his works would you most like to see get a wider hearing today? For people who are not well acquainted with his work, what should they be listening to?
Austin Clarkson: Well, I would say the best thing to do is to buy a couple of recent recordings that are an absolutely marvelous overview of a large part of his career. There is an opera CD from Decca and there is a new Bridge CD recorded by David Holzman. Then there are some chamber music CDs which are absolutely wonderful. You can find all these through the Society's website.
Molly Sheridan: Why don't you speak more about what the Society does to help preserve Wolpe's legacy.
Austin Clarkson: Well, the Society was first set up to help get the music published. Now we're working on a major compilation, a 16 CD project and we're working on a complete critical edition of his music. We're hoping to get funding from Canada, the U.S., Germany, and Switzerland. It's curious that because I'm Canadian and I've been a scholar here now for 30 years that most of the funding for the editing of Wolpe's music came from the Canadian government. So Canada has played a role in bringing the world of Wolpe into scholarship. Now we're looking for people in the States to help out, because he is a national figure. He should be, because he is one of the greatest composers of the 20th century. I don't think there's any doubt about that.
Molly Sheridan: What is it about his music that speaks so strongly to you?
Austin Clarkson: Well, you might call it something as basic as the life force. It's so exciting and so amazingly unpredictable. It is so coherent and yet so unexpected. It has tremendous power. It's like sitting in front of a painting of De Kooning or Rothko: you just know that there is a great intelligence and aesthetic awareness at work.