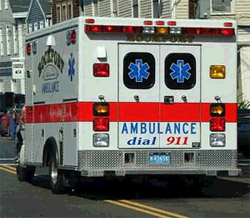 The health insurance battle—Are composers getting left in the dust?
Photo courtesy Freefoto.com
It's a situation most Americans who keep on the path of school to workplace to retirement may never have to face, but for composers who graduate and don't seek full-time employment, obtaining and paying for health insurance can be a lifelong battle.
It's an issue that has been debated on the Congressional floor and continues to garner national attention, but one with no solution in sight. Just this month, Consumer Reports published a story highlighting the perils faced by those Americans who are not covered by an employer and must purchase their own policy.
One composer I spoke with recently quickly discovered that once graduate school was over, health insurance was out of reach. As a young musician whose only extra income outside of composing comes from short-term employment and intermittent teaching jobs, he found that the premium was comparable to what he made in a year as a composer. For nearly $3,000 annually he could only get coverage for catastrophic emergencies, not basic office visits or prescription medicines, and on his current income that just wasn't practical. If something serious were to happen, this uninsured composer's current plan is to "plead poverty and hope for the best. It's not the best option in the world, but I've had to make that choice because there's no way for me to afford that kind of coverage. It's a tough life and I'm getting by, but I have to use all the money I make to live on."
Philip Crosland, ASCAP's Senior Vice President of Marketing, is well versed in the issue, having jump started the initiative that partnered ASCAP with the national insurance agency Sterling & Sterling to form MusicPro Insurance Agency, a company that provides various types of insurance to music professionals. "When it comes to insurance, there are no good answers, really," Crosland admits, but for those who can afford it, there are policy options out there. The issue has proved such a challenge that even the competing right's organization BMI also directs its members to MusicPro, according to Ralph Jackson, assistant vice president of classical music relations. (The company is also endorsed or supported by NARAS, MENC and the AFM). MusicPro's main focus is on the insurance of instruments, equipment, tours, etc. However, the company also offers health insurance policies, administered by eHealthInsurance Services, which pre-screens health insurance policies selected by geographical location, price, and benefits.
Group Health Insurance for AMC members
As a benefit of membership, AMC composer have the option of Health Insurance through The Entertainment Industry Group Insurance Trust (TEIGIT). The coverage, offered through CIGNA, is now available to all members in good standing of the American Music Center who are engaged in an occupation in the arts or entertainment industries and reside in the following areas: Southern NY, NJ, CT, MA, Greater Atlanta (GA) Area, Greater Chicago (IL) Area, Northwest IN, Southern FL, and CA. Plans include CIGNA HMO, available in Southern NY, NJ, CT, MA, Greater Chicago, Northwest IN, and CA; CIGNA POS, available in Southern NY, NJ, CT, Greater Atlanta, Greater Chicago, Northwest IN, and CA; and CIGNA PPO, available in Southern Florida. Coverage is also available through Trustmark in all US states except Maine, New Hampshire, Vermont, Kentucky, Washington, and Hawaii. AMC members should call TEIGIT at (800) 886-7504 for complete information and application materials.
Curious, I went to the MusicPro website, accessed the eHealth comparison shopper database, and tried to find insurance for myself. With a New York zip code, the search returned one option only. For $256 a month I could get $100,000 of annual coverage with a $250 deductible, but office visits and general health exams are not covered and routine medical tests must be done at the hospital. Emergency room visits are covered with a $50 co-pay, so I guess if I get Strep throat or something I'd have to go there, sick and in a NYC emergency room likely waiting for hours. My generic drugs would also be covered after meeting a $50 deductible.
The whole system varies by state however. For instance, if I moved back to Ohio I'd fare slightly better. There are 36 options returned for me, offering a wide range of fees and deductibles (starting at $37 monthly/$5,000 annual deductible). For $111 a month, I could get a $500 deductible, $30 co-pay on office visits and routine exams, and a prescription discount program. There's even a dental coverage option. But I'd just have to cross my fingers and hope for the best if I ever required long-term care (30 days of home health care a year) or maternity coverage (it's not provided, even on the more expensive plans).
However, if I am an AMC member composer, I also have the option of obtaining group health insurance through The Entertainment Industry Group Insurance Trust (TEIGIT) with coverage offered through CIGNA. I asked TEIGIT's Burt Diamond what coverage he would offer me assuming I was an AMC member in good standing. Though the premium is similarly expensive ($290.55 monthly for HMO/$379.16 for point-of-service), the access to an HMO plan means no deductible to meet and a $10 co-pay for office visits. For those selecting the POS plan, the deductible is $300 and the co-pay is split 70/30. Here again, the specifics vary by state.
At this point I'm dizzy tracking the pros and cons of each policy. This is probably the same level of frustration at which many composers go back to their music and forget about the whole problem—until they get sick, of course.
"There's a point at which I guess I just gave up," says that same young freelance composer. "I don't really understand it and I'm also completely disgusted with the health care system in the United States. It's just an awful situation for everyone." He admits he's also been thinking about going back to school to work on his doctorate—partly for the health insurance. "One of the reasons I would even consider doing that is because I would have access to health insurance for three years."
From his industry vantage point, Crosland agrees. "Health insurance is such a disaster in this country. I'm not going to take a political point of view on this but I don't know of anything that's going to change that short of some kind of government intervention. It isn't just a music problem, it's an American problem."
Every year at annual membership meetings the issue of health care is brought up, but Crosland says all he can offer "is a choice—and it's not inexpensive—but there's a choice of different plans and ways to handle it. But even if you have $80 or $100 monthly premium…for someone that's a part-time musician or a song writer trying to make a go of it, that's real tough."
The mood among composers in the field is not optimistic. "I'd call it to a large degree resignation," Crosland says, "and that's really a sad commentary on the creative power of America, how music creators are treated."
And, of course, this is only a small piece of a much larger national problem. According to Covering the Uninsured (a coalition of 12 national organizations including the U.S. Chamber of Commerce), more than nearly 39 million Americans lack basic health coverage. The U.S. is the only industrialized country in the world in which all citizens do not have access to health coverage. New proposals continue to be offered by the Bush Administration, various members of Congress and other interested groups and experts. As a musical community, we need to be diligent in our research of the coverage that is available while at the same time being a strong voice in the continuing public debate of this issue.