DJ Krush
For over a decade, this native of Tokyo has been one of the most experimental turntablists working as a hip-hop producer, collaborating with American MCs such as Mos Def and Black Thought, along with other vocalists from across the globe. He brings a Japanese sense of musical timing and space, along with a trans-cultural sound palette, to heady soundscapes that span from downtempo beats to frenetic drum & bass, and back into non-metered textures.
Suggested album listening: Kakusei (1999)

DJ Spooky
Almost equally interested in cultural philosophy and music, Paul D. Miller, a.k.a. DJ Spooky, has perhaps done more than any other DJ to connect his work with the interests of academia and avant-garde artistic circles. His musical collaborators include Pauline Oliveros, Yoko Ono, and Kronos Quartet, with a boundless range of sample sources (Buddhist chant, spoken-word recordings by Gertrude Stein, Middle-Eastern violin, Iannis Xenakis compositions, etc.). While he is skilled in scratching, his focus is on the mix— the overall musical texture and the meanings attached to the samples used, delighting in the creation of new perspectives by remixing diverse sonic artifacts. DJ Spooky's more experimental mixes often suspend the beat in favor of drones, extended samples, and improvisation with other instruments in free rhythm. On another project he can be heard creating dance remixes of classic reggae tracks, or collaborating with underground hip-hop MCs such as Pharoahe Monch and Kool Keith. The multiple musical worlds that he inhabits are connected through his view of the DJ's role, as an artist who embodies the omni-directional consciousness of the internet and globalization—what he has called the "multiplex consciousness".
Suggested album listening: Celestial Mechanix (2004)

DJ Qbert
Since his days as a member of the legendary DJ crew the Invisibl Skratch Piklz, DJ Qbert has reigned supreme as a scratch virtuoso. Adopting a more introspective style since his early days as battle DJ, Qbert has created a distinctive sound world brimming with cartoonish science fiction images. Widely imitated, his rhythmic precision and control over his records is second to none. He is the closest that turntablism has to a superstar athlete.
Suggested album listening: Wave Twisters (1998)

Kid Koala
This Canadian turntablist has gained fame in recent years for his idiosyncratic performance style and playful use of samples from many genres of music. A master of the needle-drop technique to quickly move between parts of a record, Kid Koala has also become known for his unique methods of playing the turntable as a melodic instrument, making special use of wavering and bending tones. One of his numerous multimedia endeavors has been a cabaret-style traveling show called The Short Attention Span Theatre, involving 3 DJs on 8 turntables, each DJ scratching a particular instrument sound (such as accordion) to create the impression of a band.
Suggested album listening: Your Mom's Favorite DJ (2006)

DJ Shadow
Straddling the roles of producer, turntablist, and songwriter, DJ Shadow is one of the most respected artists in instrumental hip-hop. Working with a wide range of equipment, he has created a unique style of electronica that takes turntablist sampling to new expressive heights. The tone of his music is often dark and contemplative, designed for concentrated listening rather than dancing. In live performance and in his recorded productions, he holds his own as one of the most technically accomplished scratchers, with a versatile musical sensibility.
Suggested listening: The Private Press (2002)

***

About the Author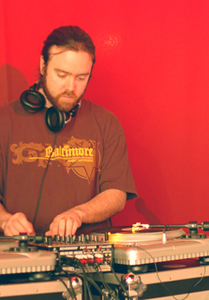 Erik Spangler


A renegade doctor of music from Harvard University, Erik Spangler (a.k.a. DJ Dubble8) is a composer and turntablist whose hybrid soundscapes thrive on a unique blend of experimental and popular influences. Using a digital interface with a standard DJ setup, Spangler explores the manual manipulation of sounds both newly created and selected from history.

He is co-founder of the genre-bending duo Hybrid Groove Project and artistic director of the new music series Mobtown Modern in partnership with the Contemporary Museum in Baltimore.