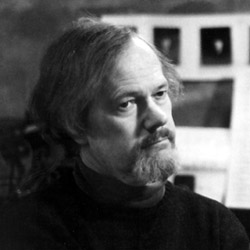 Self portrait by Ingram Marshall
Photo courtesy Nonesuch Records
Ingram Marshall is back from a month-long residency in Italy at the Liguria Center for the Arts and Humanities. Not only did the award allow him to spend a month composing on the Mediterranean coast, but as the first recipient of the Roger Sessions Memorial Bogliasco Fellowship in Music (given only to an American composer) his travel expenses and a stipend were also provided. The fellowship is funded by an anonymous donor.
About 50 Bogliasco fellowships are awarded every year, attracting people from around the world to the quiet town of Bogliasco near Genoa in northern Italy. Like many residency programs, the center creates an environment that allows participants to step outside their normal daily lives and devote themselves fully to creative work or scholarly research in the arts and humanities.
In addition to picking up a bit of Italian, Marshall says the trip was good for him musically. "If you can really focus and you have a specific project, it's a wonderful place. And if you can't," he adds with a laugh, "well, you can still enjoy being in Italy."
Marshall spent his time trying to complete his Magnum Opus commission for the Oakland East Bay Symphony, a work for tape and orchestra. However a few technology glitches using his material and their equipment, he says, "conspired to make that a little bit more daunting a task than anticipated."
The Roger Sessions Memorial Bogliasco Fellowship in Music
Next year's recipient will be chosen by the Foundation's Music Advisory Board from among those American composers who are selected to receive Bogliasco residencies during the 2004/05 academic semesters.
Application deadlines are January l5, 2004, for the 2004 fall-winter semester and April l5, 2004, for the 2005 winter-spring semester. For further information and to download the application form, please go to www.liguriastudycenter.org or email info@bfny.org.
The setting, perhaps, made up for any mechanical frustrations. Marshall worked in a music studio equipped with a new Mac computer, keyboard and a sound system, in addition to the traditional piano. Adding to that, he explains, the studio was located "way up on the hill above the din of the city, very private and quiet, up in the olive groves, quite peaceful and beautiful. You could step outside your door and you have this sweeping panoramic view of the Mediterranean."
Overall, he found it "kind of life affirming to be in such an environment. For me it was a nice break from working here at home. It's good psychologically to get a change of atmosphere every once in a while. It gives you a different perspective on things."
Marshall's wife wasn't able to accompany him, which he said was especially unfortunate since Bogliasco is well set up to accommodate a spouse or partner.
He got a special kick out of knowing that Sibelius, one of his favorite composers, also spent time in this part of Italy in 1901. "He had some grant he had got from the Finnish government," Marshall recalls, "and they holed up with his family in a pension in a town about 20 miles south of where I was. He wrote his Second Symphony there."
In addition to all this, being the first composer to receive the Roger Sessions Memorial Bogliasco Fellowship in Music "was a wonderful surprise. That way the residency ends up not really costing you anything. My only problem with that was that I kept thinking that Roger Sessions wouldn't have approved of the kind of music I'm writing."