"I should probably tell you, I don't really like talking about my music," Anna Clyne shyly confesses partway through our interview. The British-born, New York-based composer is laughing and gamely trying to answer my questions, but the whole exercise is clearly starting to wear her out.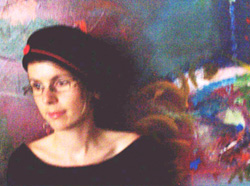 Anna Clyne
Photo courtesy of the composer
---
Listen to a sample of her interview on Counterstream Radio.


---
"It's a strange thing when you put something out there," she explains. "I'm in the middle of a piece right now, and when you're writing, you're absolutely in that world. For me, every part of me is in that piece. So it's a very concentrated period of time when I'm writing. And then that's it; I move on and I give the same commitment and energy to the next piece. So it's interesting to have this conversation, to be reflecting back on these other pieces and to actually see that there is a common thread going. But generally I'm not really a backwards thinker. I'm more of a 'what's coming next'."
Clyne (b. 1980), who picked up a bachelor of music degree with honors from Edinburgh University and a master of music degree from the Manhattan School of Music, has capitalized on that forward-looking focus, successfully exploring and integrating electronic, small ensemble, and full-orchestra sound palettes in a range of situations—from collaborations with choreographer Kitty McNamee and her Hysterica Dance Company to reading sessions with the Minnesota Orchestra and commissions from Carnegie Hall and the Los Angeles Philharmonic.
Though you might say that Clyne's deft hand at writing for electro-acoustic combinations is what sets her apart, the mix of sounds has always worked quite naturally in her ear. "I don't think I've ever thought of electronics and acoustic music as being two separate things," she says. "I think sometimes I'll lean more to one side—it could be the extreme being tape and the other side being an orchestra—but when you're composing, you're painting with sounds. So if it's in ProTools with samples or it's on a score with instruments, to me, I treat it the same way. It's a visual representation of sound. So, for me, they're really not that different, and they're both really exciting."
Admittedly, though, facing 80 people on a stage is quite different from rows of multi-colored tracks on a computer screen. "Definitely, a huge learning curve because [when working with an orchestra] you have to be as specific as you can be, and there's very little time for editing. The luxury of electronic music is that you can really have 100 percent control. With the orchestra, you really have to know what you want."