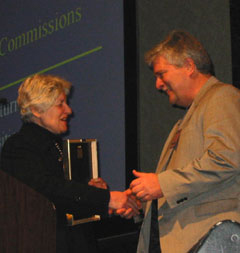 ASCAP's Fran Richard presents Fred Sturm with his ASCAP/ IAJE Commissioning award in the established composer category. The Gotham Jazz Orchestra performed his composition, "Abstraktes Bild."
The International Association for Jazz Education's 31st Annual Conference was held in New York City on January 21-24, 2004. The event attracted jazz performers, educators, journalists, and theorists and featured a non-stop array of performances and lectures.
In Thursday's Opening General Session, outgoing IAJE President David Baker reminded members of the original mission of the organization to help jazz education in the schools. He also highlighted the number of performers and theorists who are now involved with IAJE, in addition to educators, demonstrating how the organization has grown and evolved since its founding. Baker expressed his desire to see IAJE continue to expand its influence on professional and educational fronts in the coming years.
On Friday afternoon, a session called Jazz Police Beware: The Secret Relationship Between Jazz and Hip-Hop brought a heated discussion to the conference. The panelists, which included jazz and hip-hop crossover artists Teodross Avery, Russell Gunn, Imani Uzuri, Christian McBride, and Vijay Iyer, had different backgrounds, but what stood out were their similarities. Each artist grew up hearing the popular music of their day, which included early hip-hop as well as rock and popular music. This early influence seems to have made it a logical choice to include all the sounds around them in what they do. Another prevailing point was that hip-hop, like jazz, is a victim of marketing. Many questions were aimed towards the violence found in much of the popular hip-hop broadcast on commercial radio. To find the quality art in hip-hop and jazz, the panel suggested, one had to "keep their ear to the ground" and search for quality art outside the mainstream. Also addressed was the role of women in hip-hop and instrumental jazz and the apparent sexism found in both musics.
Saturday morning's Has The Internet Helped Jazz? brought up many topics of interest for the forward-looking in the jazz industry. As an overall idea of where jazz could go nationally, Michael Ricci, the creator of All About Jazz, spoke of expanding his online regional calendar and musician directories. Eventually, he would like to see the site tailor itself to each visitor's personal taste and possibly sell tickets to concerts. Guitarist/songwriter Leni Stern has had a lot of success selling her music through her website and highlighted the Internet's ability to attract and serve a global audience. Panel member Ben Allison also spoke of his organization, the Jazz Composer's Collective, and how they have found unique ways of finding listeners through the Internet. The JCC are planning an online streaming radio station that will feature 100 hours of live and unreleased concerts. Also brought up, however, was the question of technical limitations. Although many advancements like streaming video and large file downloads are technically available, many Internet users are not ready for these advancements due to inconsistent Internet connections. Frank Tafuri of OmniTone records brought up that he has found success by not being overly "technical" with the design of the OmniTone website.
Among the myriad awards announced throughout the four-day event, the IAJE/ASCAP Commissions went to Pascal LeBoeuf and Fred Sturm; and the Gil Evans' Fellowship, which provides funding for a commission to be performed at the IAJE conference in 2005, went to James Miley.
Performances throughout the conference featured a who's who of the jazz world including the Heath Brothers, Michael Brecker, Dave Liebman, Joe Lovano, Nicholas Payton, the Vanguard Jazz Orchestra, and the Matt Wilson Quartet, to name a few. One of the highlights however, occurred during the Matt Wilson Quartet's performance of "Schoolboy Thug" when Andrew D'Angelo smashed a saxophone on stage. Jazz is dead? Think again!