This week and next, the bassoon quintet Dark in the Song will be presenting their premiere concerts, including a new piece of mine, 21 Miles to Coolville, for four bassoons and video (the piece can also be played by a solo bassoonist—bassooninator?—along with a recording that Mike Harley made of the three accompanying parts).
The lineup of Dark in the Song is a veritable all-star team of bassoonists who like new music: Rachael Elliott (Clogs, Tuple, Vermont Contemporary Music Ensemble, University of Vermont); Michael Harley (Alarm Will Sound, Long Bay Symphony, University of South Carolina); Lynn Hileman (Tuple, Laureate Woodwind Quintet, Binghamton Philharmonic, West Virginia University); Peter Kolkay (Chamber Music Society of Lincoln Center, IRIS Chamber Orchestra, University of South Carolina); and Saxton Rose (Winston-Salem Symphony, University of North Carolina School of the Arts).
I am thrilled to have the opportunity to work with these phenomenal musicians. Since their main interest is in "adventurous new stuff" and since they seek to expand the repertoire available to bassoon ensembles, I thought that readers of NewMusicBox might be interested in hearing them answer some questions. After all, I can think of no greater panacea for composers than a performer who uses multiple smiley-face emoticons when discussing new music.
Mike Harley took some time out from rehearsing in order to respond to my queries.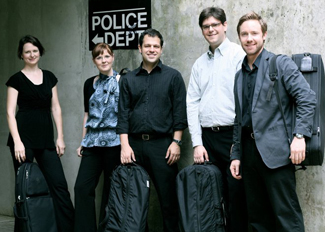 Dark in the Song
Q: What exactly is a bassoon supergroup, and isn't that phrase an oxymoron?
A: Hah. I prefer to think that Dark in the Song represents the logical and quite possibly final step in the evolution of classical music: cutting-edge new music played entirely by the most expressive, sonorous, and versatile of instruments! The only thing that could possibly be better than one bassoon is of course two … or three … or four … or five…. Clearly, this instrumentation will be to 21st century chamber music what the string quartet was in the 18th and 19th centuries.
In all seriousness, it is a real pleasure to make music with such superb and accomplished musicians.
Q: How did this project come about?
A: Saxton Rose really deserves the credit for initiating discussions about forming a bassoon ensemble devoted to new music. He contacted several of us and started the conversation. Lynn, Peter, and myself all know each other relatively well from school and work, and Lynn and Rachael play in a bassoon duo, Tuple. We all love new music and working with composers, and have made it an important part of our performing careers individually. There's really not a lot of "real music" out there written specifically for bassoon ensemble, and often what gets played is just silly—one typically hears bassoon quartets performing Beatles arrangements and the like. So it makes sense for us to focus on playing, arranging, and commissioning adventurous new stuff.
Q: Why amplified bassoons?
A: While we don't always use amplification, in some situations it's great for a more "in your face" sound. The bassoon is a subtle instrument that depends a lot on the acoustics of a hall to achieve a full sound and large dynamic range. If this isn't available—or if it suits the music—amplification and the effects that can come with it (including reverb, looping, delay, whammy pedals, and the like) can be really useful and exciting.
Q: Dark in the Song will give its premiere performance at the White Mule on their 21 Sounds series on June 16 in Columbia, South Carolina, then will storm the International Double Reed Society National Convention in Norman, Oklahoma, on June 22. What pieces will you be playing on these concerts?
A: First of all, can I just say: Five bassoons playing in a bar! How cool is that! :) We'll be doing a large variety of things, including works for bassoon quartet, a new piece for bassoon quintet and electronic sounds by Alex Wroten (a graduate student at Dartmouth) written specially for the occasion, and some solo pieces. The 21 Sounds series features music of local/regional composers, and three pieces will be by South Carolinians: Wroten, Tayloe Harding (dean of the U.S.C. School of Music), and George Fetner. You'll hear stuff running the gamut, from works played with minimal amplification and effects to pieces using looping, delay, and whammy pedals; your fantastic new piece for four bassoons with the video that you created. Other composers include Jacob Ter Veldhuis (two arrangements by Saxton), David Lang, and the avant-garde cellist/composer Zoe Keating.
Q: What are your plans for continuing the ensemble beyond these initial performances?
A: Dare we dream big? I don't think I'm exaggerating to say we'd like to become the premiere group of this kind, perform widely, record, and commission lots of new pieces. What could be better? :)
Q: What do you seek in new pieces? What composers do you, as an ensemble, find exciting?
A: I think that between the five of us we bring a really wide range of tastes to the table. Most of all, we are simply interested in playing good music, regardless of the style. Certainly, an adventurous approach in writing for the instrument is encouraged—we're up for anything—but works don't need to be chock full of crazy effects to be beautiful and interesting. Composers I've enjoyed playing relatively recently include David Lang, Wolfgang Rihm, electronica artist Mochipet, Birtwistle, Ligeti (a personal favorite), the indie rock group Dirty Projectors, some of the Alarm Will Sound composers (John Orfe, Caleb Burhans, Stefan Freund, Payton MacDonald, Matt Marks), yourself…. Michael Gordon is going to write a piece for seven bassoons, a joint commission involving around 30 players, which I think is very exciting.
Q: Are you hoping to expand the repertoire for multiple bassoons? How should interested composers contact the ensemble?
A: Absolutely, one of our most important goals is to help expand the repertoire for the instrument. Brass quintets and quartets, sax quartets, even clarinet and flute choirs all have comparatively substantial repertoire—why not bassoons? The blend is wonderful, and the instrument has a really large range and great variety of expressive capabilities, including extended techniques, that haven't been fully exploited, particularly in pieces for bassoon ensemble.
We're particularly interested in works for multiple bassoons, certainly, but also solos, pieces for bassoon and electronics, works with piano, etc. Interested composers are welcome to contact me directly at mharley at mozart.sc.edu, or hunt down email addresses for anyone in the group. We're working on a website that should be up and running soon, and meanwhile you can get us on Facebook and Twitter.