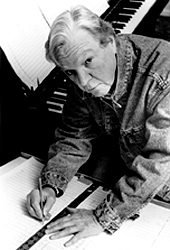 Donald Erb
Photo by Janet Century, courtesy the Theodore Presser Company
No one could have had a more complete exposure to serialism than I did as a student of Marcel Dick. Marcel was a student of Schoenberg who played viola in the Kolisch Quartet, and often performed the music of Schoenberg and Webern as part of the musical scene in Vienna. Marcel was an amazing source of musical knowledge, but I balked at the dictatorial quality of serialism.
For me, a statement I made back in 1969 still holds:
"…composing is basically an intuitive process. A composer should be able to use what he knows about music in an instinctive manner rather than relying on systems."
Although serial music was thought of by Marcel and other Central European composers as the logical music to follow the Romantics, as the music became more and more cerebral it resulted in a disconnectedness from the audience and the performers. Other, more accessible styles of writing made advances with the public. Serialism will always be of historical interest and there will always be performances of Pierrot Lunaire, but the movement as a whole has long been dead.