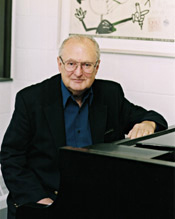 Donald Harris, photo by OSU Photo Services
Professor of Composition & Theory
School of Music, The Ohio State University
John Cage Introduction
These are questions that might seem appropriate for John Cage to ask, particularly if one is already acquainted with his music and his musical thought. Cage was eager to challenge common understandings. Whether or not they are useful questions today, however, depends on one's perspective on several if not many issues arising out of what each question conjures up. For example, "is music just sounds" could easily be answered yes or no, depending upon a larger definition of what is meant by the question in the first place. Similarly, "what does music communicate?" could be answered by nothing or everything, leaving open the larger question of what is meant by music communicating. Each question poses philosophical or aesthetic problems whose various resolutions go way beyond what this writer is willing to engage in. I would prefer that the reader find my response in an introduction of John Cage that I presented prior to a lecture he gave at The Ohio State University in January, 1990. My introduction doesn't really answer the two questions, but it is, in my view, an honest appraisal of their author, who remains one of the most enigmatic, imaginative, and forceful musical personalities of the last half of the twentieth century…
I first met John Cage in a small country tavern or gasthaus, near Darmstadt, West Germany. It was a chance or random encounter, to use familiar words in John Cage's vocabulary. I recognized him from his photographs. Inquisitive student that I was, I struck up a conversation.
I recall that he had been out and about looking for mushrooms in a neighboring wood. I didn't know at the time that he was an expert mycologist. But I also recall that he ate an omelet for lunch, which may or may not have contained mushrooms, and that the conversation lasted for the better part of the afternoon. We were both in unfamiliar surroundings. I think that he enjoyed some casual conversation, a departure indeed from the serious, humorless debate that normally occurred at Darmstadt.
It was the summer of 1956 or 1957, the early years of the Darmstadt new music festival, and neither of us was conversant in the German language. I came away with the feeling that my encounter with John Cage was the most important of that week. How could it have been otherwise with a man at once so enigmatic, charming, and forthcoming, and with so much to offer?
Since that time I came in contact with John Cage at infrequent intervals, but nonetheless with some random irregularity, to continue with words not uncommon to his vocabulary. Only a few short years ago, when associated with another school, the Hartt School of Music, I had the good fortune to co-sponsor a concert of his complete works for violin, both with and without piano accompaniment, performed by the violinist, Paul Zukofsky, with the composer, Charles Wuorinen, at the piano. Each work was vintage Cage, but the event clearly demonstrated how important quality performers are to the execution of his music. These are not pieces that shine in the hands of amateurs or the uninitiated.
Nonetheless, one hardly has to see or be with John Cage to be in contact with him. His artistic presence is continually with us, whether we accept it or not. John Cage has successfully challenged the way we view and perceive art. In music, he has single-handedly brought forth a new concept of notation. He was the first to tell us that the European way of making art was not the only path. His example showed us that there were extra-European philosophies and aesthetics which were equally as compelling models.
As many American artists persisted to emulate their European predecessors, John Cage was, I think, amused. He was laughing, not at us for he is far too generous and compassionate for that, but laughing with us, if only we would have had the courage to see his ideas as non-threatening, as simply adding dimensions which were out of our habitual orbit.
John Cage has taught us to question everything we thought we knew about art. At the same time he has relentlessly pursued his own vision with courage, tenacity, and wit. His lectures and writings are as much a part of that vision as his music. As a matter of fact, his life and actions are inseparably linked to his oeuvre. One or the other does not begin where the one leaves off. True to the finest of oriental philosophers, the man and his art are an insoluble whole.
John Cage has certainly influenced the entire artistic world, as much if not more than the purely musical one. Painters, poets, dancers have all succumbed to the power of his ideas.