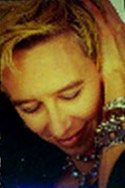 Amy Knoles
Photo by Richard Hines
I think of Napster as radio for the Zeros. It's great advertisement. There is a new mp3 player that has just come out, it looks like a cassette player. The quality of mp3 files are actually worse. People who download music buy 5 to 1 the number of CDs of people who don't. People who listen to new music are generally sensitive to the quality of the recording and would most likely buy the CD after auditioning it from a downloaded file. If someone heard my music and could not afford to buy my CDs, I would hope they could acquire it via a free download.
It would be wise to try to find a way sign a blanket licensing agreement (ASCAP/BMI) with Napster since I believe it is the most structured site out there. To destroy Napster would only mean giving more power to rouge un-tameable software distributors making it impossible to track.