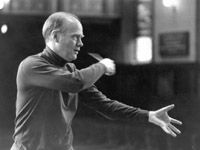 James Sinclair
Photo by Wes Thomas
James Sinclair's information-packed catalogue of the music of Charles Ives contains 728 entries covering all of the prolific composer' s works. The book presents new information produced by recent Ives scholarship and generous commentary on each of Ives' s compositions. It completes the work begun by musicologist John Kirkpatrick in 1955, when Ives' s music manuscripts were deposited in the Yale Music Library.
"When I came in 1972 to visit Kirkpatrick, he seized on the idea that we would work together on the complete catalog," Sinclair explained. When Kilpatrick had a stroke in 1981, Sinclair continued his work, and later helped Paul Echols, who took over the cataloging in 1989. Echols died quite suddenly of brain cancer in 1994, and Sinclair promised to take over. "There was still a lot of research to be done," he explained — enough to take the next four and a half years to complete. "It was quite a task to wrestle something as wondrous and complicated as Ives' oeuvre into a book."
In the Catalog, Ives' s works are arranged alphabetically by title within genres. Whenever possible, each entry includes the main title and any other titles the composer may have used; the forces required; the duration; headings of movements; publication history; citation of the first known performance and first recording; the derivation of the work, listing music on which it may be modeled or from which it may borrow material; the principal literature treating the piece; and commentary on these and other matters. The catalogue also provides musical incipits for all Ives's extant works, seven appendixes (covering his work lists, "Quality Photo" lists, his songbooks, a chronology of his life, recordings made by Ives, and his private publications and commercial publishers), three concordances, and four extensive indexes (addresses, names, titles, and musical borrowings).
All of Sinclair's research was conducted at Yale. "I had the advantage of wrapping up the catalog with all the manuscripts close at hand," he commented. Sinclair created the musical incipit for each work; for orchestra pieces, this meant reducing the score to just a few staves. He added information on the first recording of each work to the catalog, thereby "acknowledging that recordings are as important as live performance." He also dealt with fragments of Ives's music, sometimes as many as five or six on a page, and assigned them both relevance and importance.
Sinclair's interest in Ives was piqued when, as a boy, he heard Leonard Bernstein talk about the composer during one of his Young People's Concerts. "I went immediately to find more scores and recordings so that I could hear more of this music," Sinclair remembered. He was "stunned" to find that this other music was "nothing like [what he] had heard on TV."
Currently, Sinclair serves as Executive Editor for the Charles Ives Society. The Society exists to oversee the publication of Ives's works in critical editions, which sometimes means republication. The editors are a constantly changing group of people who work within their fields of expertise. Sinclair provides them with guidelines and "criticizes details" before works are passed on for publication. He is the author of nineteen critical editions of works by Ives as well as six transcriptions for band.
James Sinclair is also the music director of Orchestra New England, a position that has given him special perspective in his scholarly work. With the Catalog, he wanted not only to "meet all the needs of scholarship," but also to make the work "readable and relevant to the average performer." "I am a conductor, and I am well aware that the performer doesn't want to read a whole lot of siglia and figure out all the arcane operations of a book where they have to memorize the front to understand the middle."
Sinclair has provided such features as relationships between songs and texts to provide musicians with better ideas for programming. "There's no question that five hundred copies will be snatched up by the most distinguished music libraries," he stated, but he also hopes that over time, more and more people involved in all aspects of the music profession will want a copy of the Catalog on their desk as a reference.
A Descriptive Catalog of the Music of Charles Ives also won the 1999 Professional/Scholarly Publishing (PSP) Awards, in the Arts category, sponsored by the Association of American Publishers, and an ASCAP-Deems Taylor Special Recognition Award.