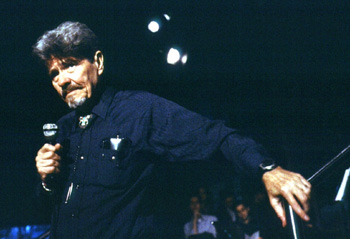 James Tenney
Photo by Paula Court
[Ed. Note: Composer James Tenney died on August 24, 2006, after a relapse with lung cancer. He was 72.]
Everyone has someone in their lives who they imagine will live forever. For me, James Tenney was one of those people.
I discovered Jim's music while doing research on Ruth Crawford Seeger. He dedicated his Diaphonic Toccata for violin and piano to the memory of her. Since then I began to collect everything available: scores, recordings, writings, interviews.
Never had I encountered a composer as stylistically diverse. Who could have imagined that the same person who wrote Forms 1-4 for variable orchestra and the mixed ensemble piece For Piano and… also created the tape piece For Ann (rising) and the Postal Pieces, such as Koan and Swell Piece? That he could combine serial procedures with minimalism to construct his Chromatic Canon for two pianos, and furthermore compose work that spans the spectrum from the electronic music classic Collage No.1 (Blue Suede) and the microtonal Bridges for two pianos, to a set of Ragtimes—all in one body of work? Jim's performance of the piano rags made apparent his extensive interest in American music and his profound understanding of the instrument. He mended the differences between musical worlds and bridged the gaps between extremes.
2005 was a great year for James Tenney in New York. The Museum of Modern Art brought him to the city to perform John Cage's Sonatas and Interludes to a screening of Stan Brakhage's In Between. Tenney and Brakhage were friends during their teenage years in Colorado and at one point roommates in lower Manhattan. He wrote the original score to Brakhage's first film Interim, which was also featured that same evening at MoMA (I was honored to be the pianist).
Later that summer, a wonderful festival to celebrate his 70th birthday—a project that took two years to realize—was finally brought to fruition in New York. The festivities opened with a concert of his chamber works at Issue Project Room—the tam-tam rendition of Having Never Written a Note for Percussion resounded through the streets of East Village. A few days later the Whitney Museum hosted a concert highlighted by his Forms 1-4. Players were distributed into four groups around the glass atrium of the Whitney Museum at Altria, and audience members were invited to move freely during the performance in order to experience the music from disparate space. Most amazingly, we had people inside the atrium realigning themselves around the musicians, as they would museum pieces. And pedestrians outside were buzzing around, gazing in through the large glass windows and marveling at what was happening inside.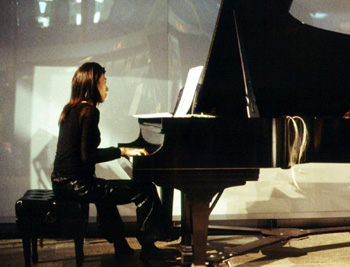 Jenny Lin performing 4 Inventions for Piano [1953/4] (rediscovered) at the Whitney Museum at Altria.
Photo by Paula Court
On his second New York trip, Jim was accompanied by his 10-year-old son, Justin. During his brief stay, I filled his schedule with meetings, interviews, and rehearsals. Never was there a complaint, but only the request that he would have enough time to traverse the city where he once lived with Justin. Musicians anxiously awaited his arrival with questions and Jim answered each, in thorough detail. Some were nervous to approach him, but within a few moments, they felt at ease. He conveyed such power and authority when he spoke, yet at the same time he was timid and concise. There in front of us was this legendary man with so much history and not an ounce of pretense, treating us like equals and bringing so much inspiration to so many in just a few days.
It has been more than a year since Jim last visited New York. When I heard he was not well, I picked up the phone and dialed his number. To my surprise, Jim picked up after two short rings. Although we spoke briefly of his health, he amiably transitioned the conversation to his orchestra piece that was ready for its world premiere with the Bavarian Radio Orchestra in Munich.
Despite his condition, Jim's voice was filled with joy and energy. He wrote music for each and every moment he lived and celebrated life through everything he wrote. And that celebration will continue through each and every one of us.