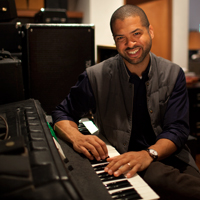 Jason Moran
Composer and pianist Jason Moran has been named a 2010 MacArthur Fellow by the John D. and Catherine T. MacArthur Foundation. The only composer among this year's 23 fellowship recipients, the so-called $500,000 "Genius grants," Moran has been recognized as "the most provocative thinker in current jazz" by Rolling Stone magazine. The only other musician honored this year was Rhode Island-based violist, violinist, and music educator Sebastian Ruth, founder of Providence's Community MusicWorks.
Talented individuals in a variety of fields who have shown exceptional originality in and dedication to their creative pursuits, MacArthur Fellows are nominated anonymously by leaders in their respective fields and never notified of their candidacy. The recipients learn of their selection only when they receive a call from the MacArthur Foundation several days before the public announcement. In announcing Moran's selection, the MacArthur Foundation stated: "Through reinterpretation of jazz standards and new compositions of his own, Moran is expanding the boundaries of jazz expression and playing a dynamic role in its evolution in the twenty-first century."
Receiving a genius grant, "signifies that from this day forward, you really have to move forward," Moran said in a video released by the MacArthur Foundation. "You have to take larger steps." Moran told NPR blogger Patrick Jarenwattananon that "he aspires to use the grant money to tour the U.S. more, and especially the Southern U.S. For instance, he has written a suite inspired by the quilts of Gee's Bend, Alabama; he says he'd like to take the work there. 'As much as I like to travel to Europe, I want to play this American music in America,' he said."
Born and raised in Houston, Texas in 1975, Moran studied piano as a child but didn't become fired with musical enthusiasm until hearing a Thelonious Monk recording at the age of 13. He attended Houston's High School for the Performing and Visual Arts before moving to New York where he became one of Jaki Byard's last students. He first came to prominence as a member of saxophonist Greg Osby's touring and recording band in 1997. In 1999, Osby's label, Blue Note, signed Moran to a recording contract in his own right. He has since released eight CDs as a solo pianist or bandleader, to great acclaim. His current band, The Bandwagon, is a trio with bassist Tarus Mateen and drummer Nasheet Waits. In addition to critical and audience recognition of his music, Moran has received commissions from the San Francisco Jazz Festival and Chamber Music America, to which he responded by using sampled conversations as vocal triggers. Moran's willingness to mix media is currently being fulfilled by collaborations with such noted visual and performing artists as Glenn Ligon, Kara Walker, and Joan Jonas. Moran has also performed as a sideman with such artists as Cassandra Wilson, Joe Lovano, Don Byron, Steve Coleman, Lee Konitz, Von Freeman, Ravi Coltrane, and Stefon Harris. This month, Moran joined the faculty of New England Conservatory (NEC).
(—Condensed from MacArthur Foundation and NEC press releases)