The Jazz Composers Alliance recently announced the recipients of the 2000 Julius Hemphill Composition Awards. A total of $2500 was awarded.
In the Jazz Orchestra Category, first prize went to Kari Ikonen of Helsinki, for a piece entitled Luoto. Tied for second place were two Americans: Adam Lane, of Oakland, with his Blues for Richard Davis, and Deborah Weisz of New York City. Other finalists were Jurgen Friedrich of Germany, Hazel Leach of the Netherlands, and Jeff Raheb of Brooklyn. The music of Kari Ikonen and Adam Lane will be performed by the Jazz Composers Alliance Orchestra in 2001.
In the Small Group category, three awards of $416 were given to Fred Hess of Erie, Colorado for Journey to Sentosa; George Schuller of Brooklyn for Mosh Pit, and Tom Varner of New York for Strident. Other finalists were Mark Helias of New York, Kari Ikonen, and Mark Nodwell of Boulder, Colorado.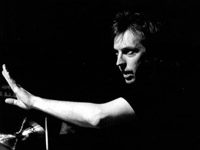 George Schuller
Photo by Joanne Krivin
George Schuller is a drummer, composer, arranger and producer. In 1984, he co-founded the twelve-piece ensemble Orange Then Blue which has recorded several acclaimed albums, including the most recent release: Hold The Elevator on GM Recordings.  A new recording of Schuller's music, Tenor Tantrums, was released in August 1999 on New World Records with the Schulldogs featuring George Garzone, Tony Malaby and George's brother, Ed Schuller. His compositions and arrangements have been recorded by Orange Then Blue, Ed Schuller, Mike Metheny, Your Neighborhood Sax Quartet, the Wilder/Woodman/LaPorta Sextet, Mili Bermejo and Lisa Thorson. 
"I know that some heady musicians submitted their tapes to this competition," mused George Schuller in a phone interview. "I am very honored to have come away with something." Mosh Pit is a reduction for 8-piece band of the original 12-piece version he composed for his band Orange Then Blue. "The whole idea of people coming to a mosh pit, a punk kind of concert, very chaotic, with people being passed over you – you can imagine that the piece is pretty crazy," Schuller commented. The piece is written in three sections that get "progressively more intense." "The only punkish element is that there is a barrage of sound – it's very 'in your face,' Schuller went on. "There is no heavy rock beat, and it's not a punk tune." To give the effect of the piece getting faster and faster, Schuller has built metric modulations into the composition, although much of it is freely improvised. "There are backgrounds to keep the intensity up," Schuller noted, "to keep the soloist trapped in the feeling that he can't go anywhere, that he has to come back to the tune."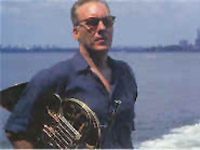 Tom Varner
Photo by Frank Tafuri
Tom Varner is considered one of the pioneers of jazz French horn. He has recorded nine CDs as leader on the OmniTone, New World, and New Note and Soul Note labels. A DownBeat and JazzTimes poll winner, he has performed as a leader at the Vienna Konzerthaus and the Moers, Groningen, and Rotterdam Jazz Festivals, as well as countless appearances in the New York area. Tom wrote the music for the feature film Saints and Sinners, and has played on over 60 additional CDs.
Varner's composition Strident was written for his CD Swimming, released in October 1999 on the OmniTone label. It is scored for a sextet of trumpet, French horn (played by Varner), alto and tenor saxophones, bass, and drum set. "Strident explores shifting time signatures, free harmonic counterpoint, and a searching, swirling, group dynamic," he writes. "The piece aims for a rhythmic urgent insistence, with a feeling of anticipation, perhaps better expressed as an 'in your face' joyful directness."
"I am very happy to receive the Julius Hemphill Award," Varner noted in an email. "This was my first award for an individual composition." Varner feels indebted to the Blue Mountain Center, where he had "four weeks of quiet in a beautiful setting" to compose the piece, and to his sidemen Steve Wilson, Tony Malaby, Dave Ballou, Cameron Brown, and Tom Rainey. Varner thinks that the actual award money went to "studio rehearsal rentals, a Finale upgrade, and a couple of dinners. It was much appreciated!"
This year, the JCA received 150 applications featuring music from twenty-four states and eleven countries. Scores and recordings were reviewed by Laura Andel, Dana Brayton, Darrell Katz, Dave Harris, Warren Senders and Rebecca Shrimpton.
"I'm amazed just by the diversity of the styles represented, and the high quality," commented Katz, who is Director of the Jazz Composers Alliance. "We're looking for music that stakes out what it's doing and accomplishes. We're looking for music that does something new – anything that you could easily put a label on, well, that's less likely to win," he explained. "On top of being fine compositions, these were really good performances," Katz continued. "With some jazz pieces, it's tricky, because the composition can be weak but the performance really good – but these were instances of both being strong."
The Jazz Composers Alliance is a composer's collective that, in the words of Katz, "mainly exists to put together ensembles and concerts." The JCA has both an Orchestra and a Sax Quartet. Eight years ago, they started a composition contest, and four years later changed the name to honor the alto saxophonist Julius Hemphill, one of the founders of the World Saxophone Quartet. The Jazz Composers Alliance is funded in part by the Massachusetts Cultural Council.