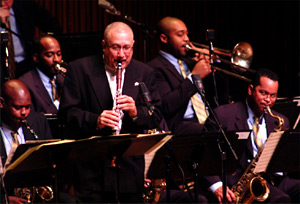 Paquito D'Rivera, special guest with the Lincoln Center Jazz Orchestra at the music of Benny Goodman concert on 12/12/02.
Ever wish you could go back in time and relive (or at least re-hear) a Jazz at Lincoln Center performance, say the world premiere of Wayne Shorter's Dramatis Personae perhaps, with Shorter on tenor and soprano saxophones? Well, jazz fans and researchers take note: more than 1,000 recordings of concerts produced by Jazz at Lincoln Center at home and on the road since 1987 have been handed over to The New York Public Library for the Performing Arts, the two Lincoln Center constituent organizations have announced.
The lengthy catalogue of performances is notable for its representation of a wide range of talents and compositions, from legends such as Dizzy Gillespie and Dave Brubeck to younger artists including Dianne Reeves and Maria Schneider, and history-making compositions like Wynton Marsalis's Pulitzer Prize-winning Blood on the Fields.
Beginning in September 2004, the recordings will be gradually catalogued and made available to the public in the Rodgers and Hammerstein Archives of Recorded Sound at the Library's Dorothy and Lewis B. Cullman Center at Lincoln Center. It is expected that the entire span of concerts from 1987 to 2003 will be accessible within three years. Performances from future seasons will be added on an annual basis.
The recordings will be an added resource to the thousands of jazz photos, scores, books, commercially released recordings, and videotapes that the NYPL currently houses.