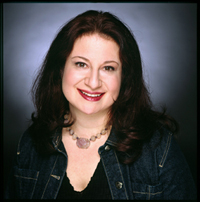 Jennifer Bilfield
Photo by Robin Holland
Stanford Lively Arts has announced the appointment of Jennifer Bilfield as artistic and executive director for Stanford Lively Arts. After a 12-month national search, the executive search committee of Stanford University faculty and staff selected Bilfield to succeed Lois Wagner, who retired in 2005 after 21 years with the organization. For the last three years, Bilfield, who will join the staff in early August, has served as the president of music publisher Boosey & Hawkes, Inc., a company for which she has worked since 1994, previously serving as B&H's director of promotion for the North American offices, director of serious music, and general manager. In leaving B&H, Bilfield will no longer be a management shareholder, which is a one percent stake in the corporation. The disposition of her shares will be determined by the board of directors.
In the music business since 1983, Bilfield specializes in strategic management, promotion, and presentation of contemporary music. During her tenure at Boosey & Hawkes, Bilfield expanded Boosey & Hawkes's catalog, attracting leading composers to its roster and recently launching a jazz publishing project. Prior to joining Boosey & Hawkes, Bilfield served as executive director of the National Orchestral Association, where she created the New Music Orchestral Project, a four-year initiative for fostering new orchestral works by living American composers which launched 48 works with readings, world premieres at Carnegie Hall, and second performances. Concurrently, the Project comprised the preparation of musical materials, a library of archival recordings, and promotion of the music and composers. Bilfield also served as executive director of the Concordia Chamber Symphony and the Bridgehampton Chamber Music Festival and has held positions at Merkin Concert Hall and International Production Associates.
Throughout her career, Bilfield has received numerous professional awards, including the ASCAP Award for Adventurous Programming and the American Symphony Orchestra League's Helen M. Thompson Award, a biennial honor recognizing outstanding achievement in orchestra management. Bilfield currently serves on several boards and committees within the music industry: American Music Center (vice president), American Symphony Orchestra League (chair, public advocacy committee), and ASCAP's Symphonic & Concert Committee and Board of Review. She is also a frequent contributor to industry publications and conferences. Bilfield is a trained composer and holds a bachelor's degree from the University of Pennsylvania. She is married to Joel Phillip Friedman, a composer of concert and musical theater works who most recently was on the faculty at Swarthmore College prior to their Bay area relocation. They have a young daughter named Hallie.
The appointment of Bilfield to head Stanford Lively Arts is the most recent development of Stanford University's new Arts Initiative, which was first announced last spring by University President John Hennessy. In an April 12 address to the Academic Council, Hennessy contextualized the role of the arts to fuel innovation within the academic environment saying, "The arts develop ways of thinking that can be nonlinear and visual rather than verbal. In addition to the role of the arts in fostering creative thinking, the arts give us a venue for dealing with the complexities and ambiguities of human existence, helping to build a bridge between diverse cultures and experiences."
According to David Demarest, vice president for public affairs at Stanford University, "Jenny brings a real breadth and depth of understanding about the power of the arts, and specifically live performance. With Jenny at the helm, Stanford Lively Arts is poised to fuel the Arts Initiative and further engage the arts in the academic mission of the institution."
5 Questions for Jennifer Bilfield
FJO: As a spokesperson for one of the largest publishers of concert music, you have aggressively pushed for venues to incorporate more new music into their offerings. Now that you will be on the other side of the fence, so to speak, what do you see as the major challenges to presenting a steady diet of new repertoire?
JB: I've always believed that context is a driving force in the successful presentation of new creative work and that audiences need to experience it with that context in clear view. By context I mean the rationale for presenting a program or new work and exploring the discussions it can trigger both within the arts and other disciplines. This is how I've approached the strategic and promotional work I've done at Boosey (Copland 2000, Reich@70, The Stravinsky Project, etc.). Thus, I'll be striving to do this in my new capacity—changing "teams" doesn't alter my belief in the integrity of this approach. My colleagues at Stanford clearly embrace a similar view, which is why this position appealed to me. Of course, many of the performing groups and artists who come to Stanford are "built" in this way—the resident St. Lawrence String Quartet certainly is. It will be a wonderful challenge to build a season of companies and performers that share this philosophy including, but not limited to, specialists in new work from a variety of genres including world music, jazz, theater, dance, and film.
FJO: In addition to your work at Boosey & Hawkes, you are a key figure on boards for many important musical organizations. How will that role change now that you will be wearing the "presenter" hat at the table?
JB: At Boosey my connection was largely with colleagues in the arts disciplines. Now, as a presenter, I will have more direct contact with the audience and donors, a perspective that will undoubtedly complement the very artist-focused advocacy I have done on the American Music Center and American Symphony Orchestra League boards. I look forward to carving a role as an effective interface and matchmaker between the artists and our audience.
FJO: You have been at Boosey & Hawkes for over a decade and have been seen as a leader in the world of contemporary classical music publishing, a world which has significantly changed during these years. What do you see as the future of music publishing and what are some of your hopes for how it will continue to evolve once you are no longer a direct part of it?
JB: I would like to think that what we have accomplished at B&H—welcoming composers from a wide variety of genres and always insisting on quality and a unique voice— will be emblematic of new directions in publishing. At Boosey I have loved cultivating the sense that a publisher can be a satellite artistic consultant, and I believe that commercial publishers have tremendous opportunity in this realm: to work with the music world in crafting programs and projects that will engage artists and audiences alike. The mechanics of it—renting, licensing— are means to this end. But it's the inherent risk-taking and investment in a wide variety of voices and talents that really do renew publishing and rearticulate a publisher's value to both its customers and composers. Given that our audience as well as our creators are artistic omnivores—enjoying rock, jazz, contemporary music in equal doses—it is exciting to imagine publishers as a gateway for this wide variety of work. Some already are.
Turning to the realm of self-publishing I'm optimistic: there has been no better time for composers to self-promote, given the many technological tools available, resources available through AMC, ASCAP, and BMI, and variety of distribution vehicles for sound files and printed music including iTunes, MySpace, and AMC's own NewMusicJukebox.
FJO: Despite important music happening all over the country, a large part of the music business, especially for concert music and jazz, is centered in New York City. As a lifelong New Yorker, moving to the West Coast in some ways seems the major life change in all of this. How will having a California base affect your outlook on national issues?
JB: This is an enormous shift for me and for my family. But my travels on behalf of B&H, as well as the scope of our business, have continually reminded me that a great deal of the most inspired music-making happens far from the obvious urban centers. You'll remember my letter and email campaign about the Winnipeg New Music Festival in the 1990s! My instinct has always been to cast my net widely to study different types of music making and conditions for concert presentation. So, although moving to the West Coast is an enormous change, the impetus for my research, fact-finding, and programming examples will continue to be beyond the urban setting and beyond our shores, as well. One of the many wonderful things about moving to this part of California is that there is a very sophisticated, engaged audience for the arts. I will miss the sheer volume and simultaneity of the arts that simply is the New York cultural landscape, but I am certain that being outside New York will refresh my thinking in ways I can't yet even imagine. This is the reason why so many creative artists have gravitated to California—the fresh canvas. I confess that this appeals to me as well.
FJO: The fact that a major American university has made such an important commitment to the arts is a wonderful surprise in an era when all we seem to hear about is cutbacks in this field. What are your hopes for Stanford's role in reinvigorating the arts and the broader implications this has for higher education and society as a whole?
JB: You can see why I found this job so appealing! Stanford's Arts Initiative has the potential to truly transform the way the arts penetrate the life within and surrounding a campus…to re-write the template, if you will. But this investment comes in response to an even larger, more ambitious mandate: the president of the university, John Hennessy, has spoken eloquently about the need for Stanford to make a meaningful investment in fostering a culture of creativity and to link the arts to other areas of the university. The driving force behind the newly launched Arts Initiative is the belief that creativity and the arts have an enormous impact upon discovery, learning, and non-linear thought in all of the disciplines—that an integrated approach to creativity and the arts will fortify Stanford students by providing a richer intellectual and emotional experience of learning. It's wonderful to imagine how these students will enjoy, support, and participate in the arts after their time at Stanford, and how it will inform the lives and work that they do after they graduate. That's really the bigger picture: quality arts experiences, engaging students and faculty from different disciplines, ensuring context for the performances, and building a meaningful relationship between creators and the campus community.
And there is another, key element: enriching the experience of the creators who work at Stanford and who are guests at Lively Arts! Working in an interactive, supportive environment, with feedback from engaged listeners and new colleagues, will stimulate receptive artists as well. And so, it is equally exciting to imagine the music, theater, dance, and other art that can be created at Stanford as well. I am certain that Stanford has a unique capacity to achieve this given the thought, engagement, and planning that has gone on in the past 18 months, and what is already underway. In my 20+ years in the arts I'm not sure I've ever seen something with the capacity for this sort of impact!