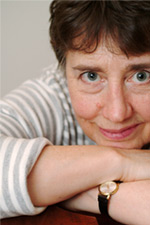 Joan Tower
Photo by Noah Sheldon
While much of the new music community was looking west over the weekend anxiously waiting for the first impressions of Dr. Atomic to waft out of San Francisco, the small city of Glens Falls, New York, was launching a major premiere of their own. Largely absent the media glare, Joan Tower's Made in America received the first of at least 80 scheduled performances yesterday afternoon for some 1,200 concertgoers in a packed high school auditorium.
Such a grass-roots beginning was especially appropriate for a piece and a project designed to rethink new music and its audience. Born out of a desire to give small-budget and community orchestras the opportunity to commission a major composer by pooling resources, Made in America ends the paradigm that important new premieres are strictly the purview of the big-budget orchestras of major cities.
Even before the premiere, 65 orchestras had signed onto the project, guaranteeing repeat performances in all 50 states over the next two seasons. In addition, the consortium of orchestras, working with the American Symphony Orchestra League and Meet the Composer, raised significant funding from the Ford Motor Company Fund and the NEA to create educational and publicity materials, including a project website and an extensive DVD presentation featuring Tower, assuring that organizations with exceptionally small and largely volunteer staffs would have the resources they needed to support the work. What Glens Falls Symphony Orchestra Executive Director Robert Rosoff termed "a big, hairy, audacious goal" conceived of in 2001, has been realized, an idea with the further potential to trigger a nation-wide shift in the relationship between composers, orchestras, and their audiences.
Tower was an ideal choice, both for her talent and her personality (see this month's Cover feature on Tower). Always ready with a joke, she warmed up the concert hall crowd with the wit and timing of a standup comedian and thanked them for making a 67-year-old composer feel like a rock star. The rock star comparison was apt, as she had been feted with dinners and parties all week, and the Sunday paper included a huge feature on her visit to the community.
For those working in the somewhat protective cocoon of new music communities in major markets, watching a group of people outside of that insular world giving so much of themselves (the volunteer committee that put together the activities surrounding Tower's visit to Glens Falls had been working for 18-months) and taking such pride in participating in the birth of a new piece was inspiring. The orchestra's charismatic music director, Charles Peltz, summed up the learning experience that everyone took away from the weekend—that even though Glens Falls was a small city, with a small orchestra, it was still important to "make music like this, for people like us, right here. We deserve it." The scope of the Ford Made in America project assures that 64 more communities will have the opportunity to feel exactly the same way.