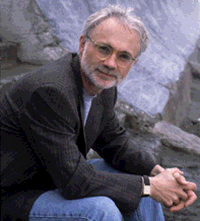 John Adams
John Adams' name just won't stay out of the headlines. For months now, reporters have queried him for reactions to the debate surrounding his opera The Death of Klinghoffer – provocative from the start for its portrayal of the Israeli/Palestinian conflict but made all the more so due to recent terrorist events. Meanwhile, the arts community debated – go ahead with scheduled performances or cancel them? Was it provocative or tasteless? A work to be praised or better kept out of the public eye?
But Adams is much bigger than this one work, a fact the BBC Symphony will be underlining when it features the 54-year-old American composer this weekend (January 18-20) at the Barbican. Adams will be in attendance to give talks about his work and conduct some of the performances during the three-day event. Previewing the program, Andrew Clark of the Financial Times wrote that "few Americans would challenge [Adams'] near-supremacy among living composers." By this time next week, a few Brits may have come to a similar conclusion.
BBCSO General Manager Paul Hughes says that the fact Adams is an American, however, wasn't a consideration. "His nationality is less important than his music, and he is a major 20th and 21st- century figure whose style is constantly evolving and endlessly fascinating, and whose humanity is boundless."
Friday night, the BBCSO will present The Death of Klinghoffer, preceded by a discussion with Adams and librettist Alice Goodman. Despite the emotional debate that surrounds the work in the U.S., Hughes points out that in Britain, "We do not consider the work controversial in quite the same way as American audiences seem to have done. I think it has a different impact here in Europe." He also explains that the UK premiere of the work will not be staged, which "will mean audiences can focus on the words and music and take perhaps something different from them. Having both John and Alice Goodman here will add further to that process of enlightenment."
Hughes dismisses a question inquiring as to what motivated the BBCSO to present such a controversial work. "I can see no reason why not to present works of controversy, of which there have been many throughout musical history."
He also thinks it likely that a British audience may be further removed from the issues dealt with in the opera and, therefore, perhaps better equipped to hear it as art instead of politics. But by the same token, he notes that "the issues are no less relevant for any audience anywhere in the world, I would have thought. We are certainly more used to the threat of terrorism here, having lived with it from Northern Ireland for so many years."
Klinghoffer will hopefully not overshadow the whole weekend, however. It is in fact only the first performance of a very extensive weekend of programming. The repertoire will also include works such as Gnarly Buttons, Grand Pianola Music, Phrygian Gates, Road Movies, China Gates, Hallelujah Junction, Slonimsky's Earbox, Century Rolls, Harmonielehre, John's Book of Alleged Dances, Shaker Loops (version for septet), Lollapalooza, Tromba Lontana, Violin Concerto, The Wound-Dresser, and Guide to Strange Places (BBC co-commission: UK premiere). In addition, the Guildhall Symphony Orchestra will present a concert of his orchestrations and arrangements and there will be screenings of An American Tapestry and Hail Bop! A Portrait of John Adams.
Begun in 1985, Hughes says that the festival's impact has "grown and grown over the years and the weekend has become a major fixture in the musical catalogue of London." Recently, Radio 3 has begun broadcasting many of the concerts live to a wider European audience.
These BBC January Weekends originated with a Stockhausen festival and then continued, featuring a number of living composers in the early years – Birtwistle, Berio, Henze, Boulez. More recent festivals have focused on composers who were not living such as Schnittke, Weill, and Messiaen. Hughes explains, "It was felt that the BBC had a remit to present the kind of in-depth reappraisal of a major 20th-century composer's works which would not otherwise be possible and was not being presented by any other orchestra."
In addition to the January weekends, the BBCSO also presents a series of "Composer Portraits" – one concert featuring the music of one composer, often in a format that mixes talk, chamber music, and symphonic music, is usually broadcast live, and – where possible – involving the composer. Recent portraits have featured such names as Henze, Berio, Stockhausen, Glass, Feldman, Knussen, and Ginastera.
Recognizable though they are, they are names that would likely be a challenge to any American organization's marketing team. Hughes says that at the BBCSO the audience demographics vary enormously, though the pricing policy is geared towards accessibility. "We are not planning purely in order to sell the house but primarily to meet certain artistic criteria agreed by the orchestra and the BBC. The marketing department is highly experienced at marketing the kind of events we do to a niche audience, which can vary in number according to the composer. Feldman will not do so well, Glass, Henze, Stockhausen, Adams – all do very well and this weekend will probably sell-out the Barbican."