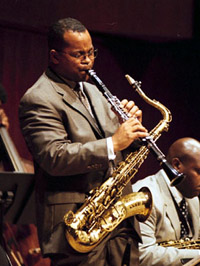 Victor Goines
Photo by Nan Miller, courtesy of The Juilliard School
Juilliard has announced the names of the first eighteen students admitted to the new Juilliard Institute for Jazz Studies, founded jointly by The Juilliard School and Jazz at Lincoln Center. The new Juilliard jazz faculty, including clarinetist, saxophonist and new Director of Jazz Studies Victor Goines selected the members of the inaugural class last April through a nationwide audition process congruent with Juilliard's regular admission policy.
The students will participate in a two-year, tuition free program that focuses on public performance. Upon completion, students receive an Artist Diploma from Juilliard. In addition to the Institute for Jazz Studies pre-professional curriculum, a Bachelor's of Music for Jazz studies will be implemented in September of 2004. This program expects to accept 12-15 qualified first time students.
The Institute's jazz orchestra will consist of all eighteen students and will present several concerts a year at Juilliard and Alice Tully Hall, as well as various venues around New York City and on tour. In addition, students will perform in various small ensembles at gigs slated for them by Jazz at Lincoln Center and receive up to $5000 for performance stipends.
"This new program is just another sign of the maturation of American culture and the reflection of our growth in music education," stated Jazz at Lincoln Center artistic director Wynton Marsalis. "This is an opportunity for the artistic vision of musicians like Ellington, Mingus, and Parker to be realized through formal education."
Juilliard president Dr. Joseph W. Polisi shares Marsalis's enthusiasm. "I am very enthusiastic about beginning this historic initiative to bring the art of jazz to The Juilliard School," he said. "With the exceptional artistic and educational programs developed by Jazz at Lincoln Center, their involvement in guiding curriculum and performance development, and an environment at Juilliard that can appropriately support jazz studies at the School, now is clearly the time to begin this new educational venture."
With the approval of the first-ever Juilliard jazz program in April of 2000, Juilliard's first appearance at the IAJE Conference in January 2001 and the acceptance of the eighteen-member inaugural class this month, Juilliard has affirmed their commitment to promoting exceptional jazz performance. The Juilliard jazz orchestra, to be conducted by Michael Morgan and comprised of the eighteen students, will have their first public performance on October 30, 2001, at Alice Tully Hall with guest artists Wynton Marsalis and Victor Goines.