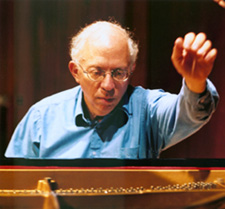 Joel Sachs
Photo Nanette Melville, copyright 2001
Joel Sachs, founder and conductor of the New Juilliard Ensemble, has been recognized with Columbia's 2002 Ditson Conductor's Award for his commitment to the performance of American works. He joins a list of recipients that includes Leonard Bernstein, Eugene Ormandy, JoAnn Falletta, Michael Tilson Thomas, and James DePreist.
"My commitment to American music can be attributed more than anything to the immensely rich pool of talent in this country," Sachs says. "Frankly, I cannot imagine why anyone would not be eager to play the music of American composers!"
Sachs is well known in New York as a presenter of contemporary music, producing and directing The Juilliard School's annual FOCUS! Festival, serving as artistic director of the annual 18-concert Summergarden festival at New York's Museum of Modern Art, and as a co-director of the Sonic Boom festival of contemporary music presented by a consortium of New York City's new music ensembles. An active conductor and pianist, Sachs is the co-director of the new music ensemble Continuum and performs extensively in New York, nationally, and abroad.
Jack Beeson, MacDowell Professor Emeritus of Music at Columbia and member of the Alice M. Ditson Fund, presented the Ditson Conductor's Award and a citation from Columbia's President George Rupp to Sachs at the first concert of the Juilliard School's 18th Annual FOCUS! Festival (which this year featured twelve-tone music and its outgrowths). Rupp praised Sachs for his "peripatetic life as a conductor, pianist, and entrepreneur and for his performances of American music in the U.S. and abroad with various chamber ensembles, including the New Juilliard Ensemble, The Juilliard School's FOCUS! Festival, and Continuum."
Sachs says that performing new works with Juilliard's student ensembles is a uniquely rewarding experience. "The young musicians more than make up, in talent and enthusiasm, for what many of them lack in experience. It is, however, astonishing to see that even some freshmen, 18 or 19 years old, have absolute command of the techniques needed to master complex recent music."
The conductor has also noticed a difference in who attends these performances. "The audience has, I think, one difference: it consists of people who want to hear new music, but also people who want to hear Juilliard students, and are eager to hear them no matter what they are playing. So I think that we are able to bring new music to an additional segment of the musical community."
Sachs, who is a member of Juilliard's music history faculty and was the first chairman of its music history department, is a frequent radio commentator on the topic of new music. He is also currently writing a biography of the American composer Henry Cowell, a project he says is "proceeding, if slowly!"