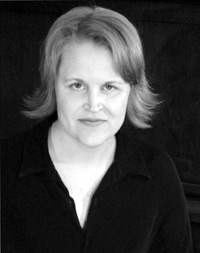 Kristin Kuster
In the book world, there's talk going 'round that prizes, not reviews, are what's catching reader attention and driving sales these days. If that applies to the music world as well, Kristin Kuster will likely be getting a bit of a career boost. Earlier this year, she picked up a 2004 Charles Ives Fellowship from the American Academy of Arts and Letters and this week the American Composers Orchestra named her the recipient of the 2004 Underwood Emerging Composers Commission.
The Michigan-based composer's most recent orchestral piece, The Narrows, was one of eight works read during the ACO's annual Whitaker New Music Readings in late May. Based on that performance, she was selected to receive the commission, a $15,000 prize, and world premiere performance by American Composers Orchestra at Carnegie Hall.
In the announcement from the ACO, Carl St. Clair, guest conductor for the Readings, noted that "all the composers participating were extremely gifted, but Kristin's musical voice was distinguished."
The 30-year-old composer, whose works often feature collaborations with other art forms, studied at the University of San Diego, University of Colorado at Boulder, and University of Michigan at Ann Arbor, and her principal composition teachers have included William Albright, William Bolcom, Evan Chambers, and Michael Daugherty. She is currently an Adjunct Lecturer of Composition, Theory, and Performing Arts Technology at the University of Michigan, Ann Arbor, and is the composer-in-residence for the Vox Early Music Ensemble.
Meet Kristin Kuster
Molly Sheridan: I don't know anything about the piece of yours that was read. What can you tell me about it, how was the reading, what did you learn from it, etc….

Kristin Kuster: The Whitaker Reading Session is a fantastic opportunity for young composers to hear their orchestral music and receive constructive feedback from all of the musicians involved. The piece I had read, The Narrows, is a very experimental piece for me. My goal for the piece was to play with overall form and orchestration—it is a ten-minute string of shapes and sounds that I had not yet explored other pieces. It was extremely exciting to hear it! Of course, some things in the piece worked better for me than others, and now that I have a terrific recording of the whole reading session I will learn a great deal about how to compose better sounds when those same sorts of issues come up in future pieces.

What I found most impressive throughout the Whitaker Readings was the sheer excellence of the players of the ACO, the degree of expression that both conductors Jeffrey Milarsky and Carl St. Clair were able to produce in such short amounts of time with each of the eight pieces that were read, the high caliber of the other seven composers chosen and the wonderful creativity of their pieces, and how smoothly the two days, which were packed with activity, went. I think that what composers learn from opportunities like the Whitaker Readings is so much greater than the thirty-five-or-so minutes they hear their own pieces read. I found it really exciting to hear so much interesting new orchestral music in two days, and I was fascinated by the comments we all received from the mentor composers Stephen Hartke and Michael Daugherty, the two conductors Jeffrey Milarsky and Carl St. Clair, and ACO Artistic Director Robert Beaser.

Molly Sheridan: What do you expect this Whitaker opportunity will mean for you, both personally/artistically and professionally?

Kristin Kuster: Beyond the spectacular opportunity to write a new piece to be premiered by the ACO, I can't yet imagine what this commission will mean for me professionally. The new piece will certainly be a great step in my personal long-range artistic goals, and I am thrilled, fortunate, and thankful for the opportunity to continue my musical development with the ACO. I felt very lucky to be accepted to the Whitaker Readings because, like many young composers, I simply want the chance to hear my orchestral music so that I can continue to get better at writing for large forces. And now to be lucky enough to write a new piece for the ACO is terribly exciting, and I look forward to exploring more orchestral sounds and stretching myself further in my writing.

Molly Sheridan: Any thoughts yet on what the new piece will be? With all the traveling you've been doing, any preliminary ideas pop into your head?

Kristin Kuster: I think it would be wonderful fun to write a piece that highlights the virtuosity of ACO players by featuring a lot of soloists within the orchestra. I explored some oscillating solo sections in The Narrows, and found in the reading session that because the ACO has such dynamite players, those sections of the piece were quite effective. In addition, I have been interested in architecture for some time, and I find that certain architects and certain buildings often provide impetus for musical ideas—if I happen upon a compelling architectural idea in the next few months I may draw upon it for this piece.

Molly Sheridan: I think we don't get the chance exchange ideas with composers outside of the NYC/San Francisco clusters as often as we'd like to. Do you feel that working in Colorado and Michigan has any artistic impact on you or none at all? Anything lost or gained for you being outside the mega-city environment?

Kristin Kuster: What an intriguing question! I respond to it with a bit of a smile because I often talk about the issue of 'the place to be' with my colleagues and my students. You know, a lot of young composers feel pressure to move to larger cities, and especially New York City, in the hopes of having more opportunities to further their careers. And for some musicians, being a part of a cosmopolitan environment is exactly where they ought to be, and where they feel most challenged and comfortable. Right now, today, I would love to live in New York City, or San Francisco, or Chicago, as much as I would love to live in Mazula, Santa Fe, or Savannah because so many places have interesting opportunities and their own charm. I cannot say if I have lost or gained anything from being in Colorado and Michigan as opposed to a big city. I think our environment informs our work whether we want it to or not, and I just can't speculate how my music would be different had I lived and studied in other places. I can say that I have enjoyed my time in both Colorado and Michigan, I was able to learn and develop at my own pace, and I have had many enriching opportunities, and lovely mentors, friends and colleagues along the way. I continue to adore living in Ann Arbor, and who knows, perhaps in the future I will wind up in a larger US city or across the globe.
Among the opportunities for emerging composers, the American Composers Orchestra's New Music Readings and Commission provide an opportunity to catch the attention of the larger music community. This year marked the 13th annual session and also a year of financial transition. The reading session was supported by the Helen F Whitaker Fund, as it has been since its inception, however the commission itself was underwritten by longtime ACO Board member Paul Underwood. According to the ACO, Whitaker funding for future Readings is not expected, but continued support from Paul Underwood is anticipated.
Last year's winning composer, Manly Romero, is currently working on Symphony: roja claro azul, which will be premiered by ACO at Carnegie Hall on February 23, 2005. Another Whitaker Readings-commissioned work, Ballade No. 1 by Paul Yeon Lee, is scheduled for premiere during ACO's 2005-2006 season.
Under the direction of ACO's artistic director, composer Robert Beaser, this year's Readings attracted more than 250 submissions from around the country. Selected participants receive a full orchestra reading, feedback from conductors, composers and performers, and a professional quality recording of their work. Also participating were mentor-composers Michael Daugherty and Stephen Hartke, and conductors Carl St. Clair and Jeffrey Milarsky.
This year's other finalists were…
The 14th annual New Music Readings are scheduled for May 4–5, 2005, at Columbia University in New York City. The submission deadline for composers interested in applying is Wednesday, November 10, 2004. Complete submission guidelines and application will be available in print and online this August, email readings@americancomposers.org, or telephone 212-977-8495.