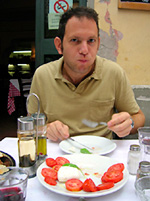 Yotam Haber
Ed Note: NMBx would like to welcome composer Yotam Haber to the Chatter section. Haber is currently in residence at the American Academy in Rome where for the next year he is exploring music of the Jewish community of Rome as a Frederic A. Juilliard/Walter Damrosch fellow. He is still too afraid of Roman traffic to ride the Vespa he purchased from a previous fellow.—MS
I arrived in Rome on September 3 and spent the entire first month going to cocktail parties, exploring Rome, and eating the ridiculously amazing food at the Academy—the right-hand woman to Alice Waters of Chez Panisse, Mona Talbott, turned the Academy from the worst place to eat in Rome to the best, literally overnight when she arrived last year. It has become a difficult thing to leave the Academy—all our lives seem to revolve around meal times.
Now that I'm finally feeling a bit more grounded at the AAR, I've been heading over to the Academy of Santa Cecilia (the Juilliard of Italy) to do some research in the Leo Levi Archives. Levi is the Alan Lomax of Italy, an ethnomusicologist who tirelessly traveled around Italy in the 1950s and '60s collecting folk music, especially Jewish music. The project that I proposed for the Rome Prize involves researching the music of the Jewish community of Rome and then somehow synthesizing whatever it is that I find into my own music—culminating in a piece for string orchestra and voice.
Last week at Santa Cecilia, Walter Brunetto, a senior musicologist, literally handed me my research project—ten dusty reel-to-reel tapes, untouched for 40 years, wrapped in butcher's twine that Levi recorded in Roman synagogues in the 1960s. They've sat on a shelf just waiting for someone to listen to them. The tapes sound scratchy and sometimes you can hear old ambulances or people chatting in the background. The singing is marvelous, sometimes solo male voices, sometimes choirs, always a capella, sung with gusto and strength. I've noticed that the cantors here in Rome take singing very seriously—and those that I have heard could easily land roles at major opera companies in the United States.
So now that I have this treasure, what do I do with it? How do I begin translating musical research into a new piece? I do know that I don't want any part of a cut-and-paste method of taking snippets of "old" music, spritzing a little deodorant under them, and "modernizing" them, but what other options does that leave me with?
What about sounding "oriental" or "middle eastern" or "Mediterranean" (I put these in quotes because I don't think there is a clear definition anymore for them)? If one doesn't personally belong to any of these classifications, how do you justify this type of borrowing? Is it enough to say that I like it, that it appeals to me?
What are the pieces that successfully surmount these issues? Possibly Stravinsky's Abraham and Isaac, which to me sounds as though Picasso went to the synagogue and painted through a new lens, focusing on elements that circumscribe rather than describe what he heard and saw.
I have started transcribing the tapes and I am thinking about how I will use this material. Perhaps I will present the tapes as is, and compose music to coincide with it, for strings and voice? In the coming weeks, as I begin to put these puzzle pieces together, I will gain a sense of the architecture and form that the work will take.