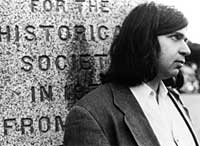 Frank J. Oteri
Photo by Melissa Richard
In the past six months, the concept of patriotism has been a dominant theme in conversations all over this country and around the world. Ironically, creative originality is rarely among the enumerations of what it means to be an American. From my vantage point, that seems to be what we should be most proud of.
In a recent letter to the editor critical of columns in the New York Press, a right-leaning free weekly newspaper here in New York City, Tom Bachar made the interesting point that our "nation was founded by anti-government patriots," noting that "all our national holidays are for people who attacked their own governments."
When analyzed in the context of Benjamin Franklin, Henry David Thoreau, Martin Luther King Jr., and America's other great historical role models, our greatest composers, from William Billings to Charles Ives to now, fit right in, yet rarely do we take sufficient pride in them for the rebels that they were.
When Leo Ornstein (1892-2002), whose violently dissonant piano music made him a cause celebré in the 1910s, died last month virtually unnoticed by most of the media, it felt like a missed opportunity for remembering what makes this country so great. An émigré from Russia a century ago, Ornstein first attracted the public's attention as a child piano prodigy. He later rejected his performing career to embark on composing music his own way. He began as a child prodigy, and went on to become the oldest composer we've ever had, a man whose life spanned three centuries and who composed throughout. His early work prophesied modernism. Later he returned to tonality and romanticism more than a generation before Rochberg and Del Tredici. He never followed anyone else's muse but his own. That's the American dream.
Unfortunately, I never had the opportunity to meet this remarkable man. But judging by Vivian Perlis's fascinating conversation with him for OHAM (Oral History American Music), which miraculously was partially videotaped in the 1970s, we will all have an opportunity to experience his passion, his energy, and his spirit.
Kyle Gann makes the argument that the combined legacies of centuries of American individualists form a tradition that is unique to us as a people. While Kyle rejects the term "maverick," which has been used as a buzzword to characterize this tradition in recent years, we asked Skip LaPlante, Judith St. Croix, Thomas Duffy, Donald Knaack, and Daniel Lentz what they think of the word to describe their music, and we ask you to chime in with your opinions on our tradition or lack thereof.
Our "In Print" section features an excerpt of a new book by Phil Freeman offering a very individual take on jazz revolutionaries. Molly Sheridan's conversation with Freeman reveals him to be something of a revolutionary in his own right. Danny Felsenfeld celebrates the discredited plagiarism of Tristan Foison as the ultimate experimental music concept. Dean Suzuki shows how even our composers who venture into that most tradition-bound area of music, sacred music, find radical ways to express religiosity through music. And Greg Sandow wonders if the radical music we make could be better served by a less-than-traditional listening environment. Finally, Amanda MacBlane's SoundTracks essay makes a convincing case for all American composers of concert music and jazz to be acknowledged as revolutionaries since the very act of creating music outside the commercial mainstream is a revolutionary act.
So, in the spirit of patriotism, celebrate America's gloriously unconventional music!