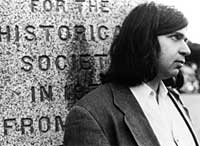 Frank J. Oteri
Photo by Melissa Richard
This month marks the 2nd anniversary of NewMusicBox's launch on the World Wide Web. Now, 25 issues later, we continue to expand the depth and breadth of our coverage of contemporary American music. Over the past two years, we have attempted to address a great many issues affecting the dissemination and perception of this music and to provide an inclusionary model for an often-segmented community.
Over the past two years, we have slowly added components to the original architecture of the site: RealAudio music samples of new recordings; QuickTime video samples of provocative quotes from interviews; Web casts of full concerts featuring new music; occasional score samples; a daily American composer birthday calendar with links; a site-wide search engine, and more. This month, we're launching News&Views which, in addition to our extensive coverage of new music news researched and written by our own Jenny Undercofler, offers bi-coastal editorials from two leading new music thinkers: New York's Greg Sandow and the Bay Area's Dean Suzuki.
Since we are celebrating 2 years of leading into unchartered waters, it seemed fitting to devote an issue to the leadership of organizations whose waters are frequently all too chartered: the American orchestra.
Over the past decade, the belief in the conductor as a transcendent musical visionary was eroded both by controversial British music critic Norman LeBrecht's highly polemic 1992 book The Maestro Myth and the proliferation of CDs by budget labels such as Naxos which offered consumers viable performances of standard repertoire by unknown orchestras led by unknown baton-holders, at less than a third of the price. These challenges to the notion that conductors are the most important artistic determiners of classical music should however be tempered with an informed view of what a conductor could and should provide to orchestras and audiences.
I went down to Miami Beach to talk with Michael Tilson Thomas, who as Music Director of the San Francisco Symphony has proven that an orchestra can be highly successful in programming new music, and who, as founder of the New World Symphony has spearheaded one of the nation's most exciting programs for training orchestra musicians. The California-born MTT is also a composer, and as an American composer advocating American music at American orchestras and in so doing winning the loyalty of concert audiences, sets a standard for what American orchestras could and should expect from their Music Directors. We'd like to know your thoughts about the orchestra's future viability for American composers.
Brian Wise, in his HyperHistory, surveys the roster of conductors who've been asked to direct the major American orchestras in recent years and their relationship to American music, for better or worse. Five other American conductors, none of whom have yet been appointed to lead any of the nation's blue-chip orchestras–Marin Alsop, David Alan Miller, JoAnn Falletta, Chris Younghoon Kim, and Timothy Russell–offer their thoughts on the importance of including American repertoire in orchestral programs. Each could do wonders at a top orchestra in this country.
In his April 8, 2001 New York Times diatribe "Art Comes Before Country," Bernard Holland suggests that we run the risk of lowering our musical standards if we insist on hiring Americans to lead our nation's orchestras. Nationalistic fervor has proven the world over to be a lethal ideology, but the implication that we are not the best upholders of our own musical standards represents an equally insidious philosophy of cultural colonialism. In a conversation between the composers Christopher Butterfield and Martin Bartlett, now deceased, published in the December 1997 issue of the wonderful Canadian music magazine MusicWorks, Butterfield remarked that "one of the characteristics of colonialism is the belief that local stimulus is always insufficient to an artist; one must always be collecting material from abroad."
In order to have a successful musical culture we must simultaneously "think globally and act locally." If we are to be part of a viable international musical culture, we must honor our own achievements as a fundamental portion of the larger world-based continuum. We must never forget that forging global connections should always be a two-way flow of information, if we want the results to be qualitative and durable. In short, we must learn to lead, or continue being led.