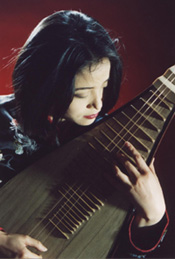 Wu Man, who will be presented by Orchestra 2001
For Philadelphia arts organizations that feel like stretching their wings artistically, the Philadelphia Music Project is there to help build the financial foundation. Once again this year, PMP, a granting organization supported by the Pew Charitable Trusts and administered by the Settlement Music School, has awarded a total of $780,000 to sixteen non-profit organizations in the five-county region. Each will receive an award ranging from $12,500 to $80,000 to support a "music project that engenders excellence in performance and creativity in programming."
The winners were selected from a pool of 31 applicants. Though several of the awardees are repeat recipients, past support is not taken into consideration.
PMP Director Matthew Levy was especially impressed with the number of commissioning projects that will highlight Philadelphia-area composers. "There seems to be an emphasis on organizations wanting to serve their local composer community. There are natural relationships that develop living in the same community and a desire to share artistic experiences, and this program supports those sorts of collaborations."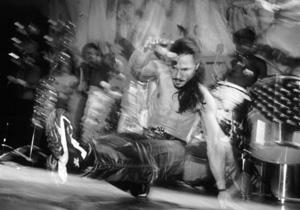 Beat the Donkey, presented by the Painted Bride Art Center
Levy highlights several of these projects. Astral Artistic Services will present three premieres by locals: works by Jennifer Higdon, Luis Prado, and emerging composer David Ludwig. And the Bucks County Choral Society has engaged Robert Maggio to mark the organization's 30th anniversary. The Philadelphia Chamber Music Society will present a festival of Philly composers. This project, which does not include any newly commissioned work, is intended as a celebration of the composers that the area has produced.
Network for New Music has included a number of commissions in its project, but its most unique aspect is the Poetry Project component, now in its second year. This season four different composers will set a new poem by Steven Dunn, giving the audience the opportunity to hear various interpretations of the text. Levy finds that the project "really brings new audiences to these new music concerts because there's a whole community devoted to literature and poetry that may or may not have a particular interest in contemporary music, but this sort of gets them out."
A complete list of grantees follows below.
Comparing the list of awardees to last year's, Levy points out that for a city the size of Philadelphia, there is a remarkable mix of projects proposed by new organizations as well as past recipients. "Organizations that are embarking on compelling projects that stretch their boundaries do continue those activities, so there is some continuity in that regard, but there are also a lot of new organizations coming into the fold. So organizations are constantly challenged to rethink their programming and to develop projects that are innovative and include artists of high quality."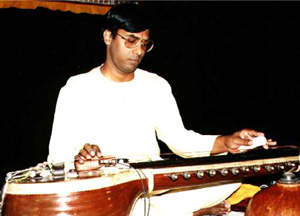 Chitravina Ravikiran, presented by SRUTI, The India Music and Dance Society
The support the awards provide has long been valued by Philly-based arts organizations, but this year Levy expects that the awards have taken on an even greater role. "I do think that these awards are integral to some of our grantees especially in light of the impact of 9/11 and the effect that's had on the organization's abilities to bring in earned income. Foundation and government agency support has taken on new significance."
Vera Wilson, president of Astral Artistic Services, illustrates the impact the awards have on the organization's work. "The importance of a PMP grant to Astral cannot be overestimated. Three world premieres by Philadelphia composers placed on Astral artists is an important and costly project bringing together a number of creative forces. Performance, marketing fees, and commissions are considerable expenses for such an ambitious undertaking, especially for a small organization. Funding from PMP provides a wonderfully satisfying endorsement, enhancing not only the credibility of an organization but also helping to secure additional funding."
The support provided to the PMP is just one facet of the Pew Charitable Trust's dedication to the arts in Philadelphia. Other programs support area organizations in other ways. The Philadelphia Cultural Management Initiative addresses managerial issues and needs and the Philadelphia Cultural Leadership Program provides general operating support. There are also Pew Fellowships in the Arts that offer direct support for individual artists
The depth of the Trust's commitment impresses Levy. "I don't know of another foundation that has taken such a multi-pronged comprehensive approach to supporting it's local arts community. They've really made a commitment to developing and supporting interesting programming that will attract attention to the area and provide cultural opportunities for residents."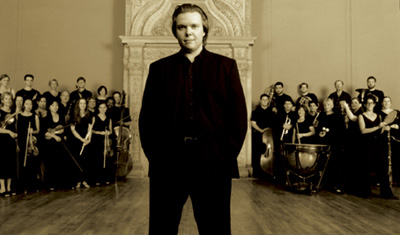 Chamber Orchestra of Philadelphia with conductor Ignat Solzhenitsyn
This year's funded proposals will yield 182 events including commissioning and performances of 19 new works; world premieres of an additional 2 works; 101 radio broadcasts; 28 residency/educational activities; and over 50 public performances. A calendar of events funded by PMP is available on PMP's Web site.
This year's panel, a mix of artists and administrators, included Don Byron, Patrick Gardner, Steven Mackey, Angela Mariani, Paul Meecham, Daniel Sheehy, George Shirley, and Erica Zielinski.
Asociación de Músicos Latino Americanos (AMLA)—$80,000 over two years to present two concerts featuring 22 classic pan-Latin works newly arranged by Ruben Gonzalez of the Buena Vista Social Club, Bombay Jazz proponent Papo Vasquez, Frank Emilio, Jorge Abad, Andres Alen, Guillenno Rubalcava, Orlando Adad, Mari Baracardo, and Elio Villafranca. Johnny Pacheco will offer workshops and rehearse and conduct the orchestra, which will feature Villafranca, Pablo Batista, and MarIon Simon, in two ten-day residency sessions culminating in public performances.
Astral Artistic Services—$30,000 to support "Philadelphia Premieres," a series of three concerts featuring world premieres of works by Philadelphia composers Jennifer Higdon, Luis Prado, and David Ludwig, written for Astral artists and featuring Igor Begelman, clarinet, and Katherine Needleman, oboe. Astral will also present the Philadelphia debut of the chamber ensemble Kremerata Musica with renowned violinist Gidon Kremer, joined by pianist Andrius Zlabys in the Enescu Piano Quintet.
Bucks County Choral Society—$30,000 for the commissioning of a major new work by Philadelphia composer Robert Maggio to mark the 30th anniversary season of the Choral Society in March 2003. Using texts from the Bible and the poetry of Edna St. Vincent Millay, this 30-minute work, entitled "Rachel and Her Children, Small Hands Relinquish All," will be composed for chorus, wind orchestra, the Pennsylvania Youth Chorale, and mezzo-soprano soloist Suzanne DuPlantis.
Chamber Orchestra of Philadelphia—$60,000 to subsidize programmatic expansion by engaging guest artists Shai Wosner, piano; Nadja Salerno-Sonnenberg, violin; Emmanuel Pahud, flute; and the Moscow Soloists; to support the commission of a new work by Mark Orton for the Chamber Orchestra and guest artists Tin Hat Trio; and to fund production expenses of a 52-week concert broadcast series over WRIT- FM, Temple University Public Radio.
Mendelssohn Club—$60,000 over two years to perform two works by composer Charles Fussell during the next two seasons: "Specimen Days," commissioned and premiered by Mendelssohn Club in 1992, presented on a program with "Choral Elegy" by Philadelphia composer Harold Boatrite; and a newly commissioned work by Fussell based on Hart Crane's poem, "The Bridge." Baritone Sanford Sylvan will be featured in both performances.
Network for New Music—$60,000 over two years to support commissions of new chamber works by Gerald Levinson, Melinda Wagner, George Walker, and Thomas Whitman, and to support the Poetry Project, which includes the commission of two sets of songs each by composers David Finko, Cynthia Folio, Jennifer Barker, and Jeremy Gill, all set to new poetry by Pulitzer Prize winner Steven Dunn.
Opera Company of Philadelphia—$67,500 for seven performances of Richard Strauss's Ariadne Auf Naxos, starring mezzo-soprano Ruxandra Donose, soprano Jayne Casselman, soprano Jennifer Welch-Babidge, and baritone Jochen Schmeckenbecher.
Orchestra 2001—$60,000 over two years to commission and present the world premieres of five works by Philadelphia area composers George Crumb, David Crumb, James Matheson, Melinda Wagner, and Jay Riese; present the world premiere of a work by Philadelphia composer Tina Davidson; and engage renowned Asian artists Wu Man, pipa soloist; The Silk Road Ensemble, conducted by Bright Sheng; and the Oriental Music Ensemble.
Painted Bride Art Center—$80,000 over two years to support the series "Beat This! Drumming at the Core," featuring four traditional drumming ensembles (Grupo Afro Boricua, Masters of Percussion, Soh Daiko, and La Troupe Makandal) and four contemporary/experimental percussion groups (Scrap Arts Music, Flammable Contents, Nexus, and Beat the Donkey).
Philadelphia Chamber Music Society—$40,000 to present two new collaborative special repertoire series: a five-concert "Festival of Philadelphia Composers" featuring new music by George Crumb, Jacob Druckman, Ralph Shapey, Richard Wernick, Stefan Wolpe and others; and four all-Bach concerts featuring solo cello and violin repertoire. Guest artists include Network for New Music; Orchestra 2001; Juilliard String Quartet; Chicago String Quartet; Miami String Quartet; Colorado String Quartet; Brentano String Quartet; Peter Serkin, piano; Ignat Solzhenitsyn, piano; Marc-Andre Hamelin, piano; Edward Aldwell, piano; Anner Bylsma, cello; and Soovin Kim, violin.
Philadelphia Singers—$30,000 to support the Singers' 30th anniversary gala performance and Philadelphia premiere of Handel's Solomon with guest soloist John Maldonado, countertenor.
Philomel Baroque—$30,000 to enlarge the ensemble to a baroque chamber orchestra with expanded strings, and to fund three concerts focusing on the music of Handel, featuring guest artists Elizabeth Blumenstock, violin; Lisa Weiss, violin; Julianne Baird, soprano; Gonzalo Ruiz, oboe; and Jesse Read, bassoon.
Piffaro, The Renaissance Band—$30,000 to support two programs that illustrate two contrasting ways of combining instruments and voices in 16th and 17th-century performance practices: a reconstruction of a mass by Spanish composer Fancisco Guerrero; and a program featuring the works of 17th-century German master Heinrich Schiitz, Matthias Weckmann and their contemporaries. Guest artists include In Clara Voce; Kiri Tollackson, cornetto; Mack Ramsey, sackbut and recorder; Christa Patton, harp; Laura Heimes, Philip Anderson, and John Alston, vocalists; and Barbara Weiss, keyboards.
SRUTI, The India Music and Dance Society—$12,500 to present two programs featuring a confluence of the Northern (Hindusthani) and Southern (Carnatic) streams of music from India: a duet by two slide instrument maestros Pandit Vishwa Mohan Bhatt and Chitravina Ravikiran playing two super vinas designed by them, accompanied by percussionists Subrata Bhattacharya on the tabla and T. H. Subhashchandran on the ghatam (clay pot) and konnakkol (vocal percussion); and a vocal concert in Carnatic style by T. M. Krishna.
Strings for Schools—$30,000 to support a violin summit featuring three of America's most talented jazz violinists, Regina Carter, John Blake, Jr., and Diane Monroe, accompanied by Kenny Barron, piano; Avery Sharp, bass; and Winard Harper, drums. Activities planned include an in-school workshop for jazz instrumentalists at the High School for the Creative and Performing Arts and a master class and joint concert with the Main Line Chamber Orchestra, a youth orchestra, and culminate in a public performance.
WHYY—$80,000 to fund Sunday Showcase, broadcasting the Philadelphia Orchestra's 2002-03 season, four productions by the Opera Company of Philadelphia, and selected programs from the Curtis Institute of Music's 2001-02 season on WHYY 91FM.