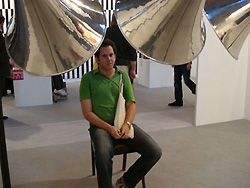 Haber about to simply walk away at the Rome art fair.
Last weekend, Rome had its first contemporary art fair—beautiful palazzi filled with thousands of artists crammed into booths waiting for a buyer. Given the fact that I have a hard enough time sharing concert programs with another living composer, I shudder at the thought of being treated like an item at the supermarket, buyers milling about searching for something that will go with their wallpaper.
On the other hand, people go to art fairs, and with their checkbooks in hand. Such fairs are nothing new in the history of commoditizing art. But the festive atmosphere certainly has a way of subverting the lofty air of "respectability" associated with the noble occupation, stringently reinforced inside the walls of museums and galleries. However, the problem—if it is a problem—may rest solely on the shoulders of artists. Do buyers see anything wrong with walking up and down aisles shopping for something they like?
Why isn't this happening in the new music world? Is our club still too exclusive? Why not have a composer fair? Some of us would have to suck it up a bit, actually talk to regular folk, not just conductors and concert organizers but doctors, teachers, taxi drivers—who may not know much about new music, simply that they would like a piano duet or trio written for their 12-year-old daughter.
When I go to art fairs I get inspired. So much bad, some good, a little great; all in one space, all new, fresh, exciting. And if I hate a piece, I can simply walk away. I wholeheartedly believe that the time is ripe for us—art music is on the upswing, it's becoming cool again (or rather, for the first time). Let's sell some music!