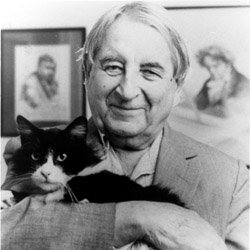 Nicolas Slonimsky
Photo courtesy of Electra Yourke
The Library of Congress has acquired a large archive of the works of the important American conductor, composer, musicologist and lexicographer Nicolas Slonimsky (1894-1995). The papers, which comprise both printed and manuscript music, programs, writings, correspondence, a large musicians' biographical file, recordings, and materials in other formats were given to the Library over the years since 1969. The collection includes materials collected by Mr. Slonimsky throughout his lifetime that document various facets of his illustrious career.
The Collection was processed in 1998-99 by Michael Ferrando, William Nelson, Stefan Patejak and Albert Tucker with the assistance of Kevin LaVine. Robert Saladini was Music Specialist and Team Leader. The collection is available for use by researchers in the Performing Arts Reading Room at the Library. In Saladini's opinion, "spending time reading through the materials in the collection would be tantamount to receiving a MA in musicology from one of our major American universities." In particular, he believes "working with this collection is imperative for anyone attempting to do any kind of modern lexicographical work, for Slonimsky was the undisputed master."
Slonimsky's daughter, Electra Yourke, is "extremely pleased" to see her father's materials finally organized and cataloged. "In compiling his dictionaries and reference works, he insisted upon going to the source. And the sources insisted upon coming to him, so publications, scores, books, manuscripts, and programs from all over the world accumulated."
Yourke called attention to the unique and valuable collection of letters that she donated in 1999, letters that were written by Slonimsky to his wife while he was traveling. "These letters to my mother offer a unique contemporary record of his experiences as conductor of new works and musical explorer," Yourke observed. Starting in 1928, before they were married, until his wife's death in 1964, he wrote to her whenever he was away, vividly describing the flavor of people and events in Paris, Berlin, South America, Havana, Hollywood, and Soviet Eastern Europe.
"My father lived to the grand old age of 101," Yourke commented, "and greatly enjoyed the belated recognition he received in later life. I wish he were around to enjoy these additional events, as well." She mentioned the upcoming concert by the American Composers Orchestra that will repeat the program of Slonimsky's ground-breaking Berlin concert in 1932, including works by Ives, Ruggles, Cowell, Roldan, and Weiss.
The Nicolas Slonimsky Collection consists of 354 containers holding nearly 118,600 items. The Collection is divided into three sections 1) materials about Nicolas Slonimsky 2) materials related to his work as a composer, conductor and lexicographer, including lexicographic source materials, manuscript drafts and correspondence, and 3) printed materials (books, journals, periodicals, pamphlets), many of which are in Russian/Cyrillic.
The first category of materials pertains to Slonimsky's life and the lives of members of his family; to his work as a composer and performer; and to his writings. Included among the writings are drafts, typescripts, reprints, etc., and newspaper, periodical, journal, and magazine articles, record liner notes, radio broadcasts, and talks, both published and unpublished. In addition, there are index cards of errata and corrigenda, typescripts, amendments, corrections of earlier editions, publishers' proofs and other documentary material for several editions of Slonimsky's larger-scale works such as Baker's Biographical Dictionary, Lectionary of Music, Music Since 1900, and Perfect Pitch. Worthy of special mention is a short unpublished biography of composer Roy Harris including some Harris holograph materials.
The music by Slonimsky is divided into two sections: manuscripts and printed music. The manuscripts are mostly for solo piano or piano and voice, and many of these date from Slonimsky's younger days. The earliest dated manuscripts are from 1913, including a musical examination exercise from the St. Petersburg Conservatory. Other manuscripts of particular interest include a volume of 15 Russian Peasant Songs that he translated in 1935, several chamber works, including the Piccolo Divertimento, the Quaquaversal Suite, and some of Slonimsky's signature ditties such as the component works of the 51 Minitudes and the Möbius Strip Tease, a song printed on a mobius strip to be placed over the singer's shoulders and rotated as the singer performs it.
The printed music by Slonimsky includes music published between 1920 and 1990, mostly scored for solo piano and voice and piano. Among the scores in this collection are the Bosphore Valse, published in 1920 in Constantinople, and the often-performed Five Advertising Songs, written in the 1920s, which Slonimsky claimed were the earliest singing commercials, albeit in spoof form. The only orchestral work is My Toy Balloon, a favorite for children's programs, and the Piccolo Divertimento, for woodwinds, percussion, typewriter, and cat's meow.
A valuable collection of programs dating from 1924-1992 chronicles Slonimsky's life as a public figure in his roles as composer, conductor, musician, lecturer, and writer.
The second part of the collection is an assemblage of his work as a lexicographer, musicologist, and writer and consists primarily of correspondence, musicians' biographical materials, and music. There are 42 boxes of correspondence and 76 boxes of biographical materials.
The correspondence series ranges from 1920 through the 1990s. The bulk of these letters date from the 1940s through the 1970s and most are responses to Slonimsky's inquiries for biographical and other information relative to his editing of the International Cyclopedia of Music and Musicians and Baker's Biographical Dictionary, and his continuous updating of Music Since 1900. Written mostly in English but also in other languages, many of the letters include biographical information and provide valuable insights into the lives and personalities of some correspondents. There are letters to and from just about every important composer in the twentieth century, including such luminaries as Milton Babbitt, Samuel Barber, Leonard Bernstein, Benjamin Britten, John Cage, Aaron Copland, George Gershwin and Charles Ives, as well as correspondence with writers about music, people like Claude Palisca and Olin Downes.
The musical biographical materials date from the 1920s to the 1980s, generated when Slonimsky was editing Baker's and the International Cyclopedia. There is extensive information about composers and musicians from around the world, many of them not well known. Especially interesting are materials relative to the lives and works of composers and musicians from Latin America and the former Soviet Union.
The music series is divided into subseries of manuscript scores and printed music. Among the manuscripts are many short holographic works and fragments by composers. Some better-known composers whose work is represented in the manuscript subseries are Luigi Dallapiccola, Roy Harris, and Heitor Villa-Lobos, as well as Slonimsky's nephew, Sergei Slonimsky. There is also a significant collection of printed music by lesser- known Soviet and Latin American composers.
The scrapbooks include general materials such as announcements, flyers and related programs in addition to clippings of reviews of Slonimsky's early work as a performer and conductor and of his later work as a writer. Of special interest are the often vituperative reviews of his ground-breaking concerts of modern music. Included also are articles he wrote for the Boston Evening Transcript and the Christian Science Monitor. Most interesting among the iconographical materials in the collection are family photographs, rare because they pre-date the Revolution, along with photographs of composers and musicians from the former Soviet Union and little known musicians from the United States and elsewhere.
One of the highlights of the third part of the collection, comprised of items from Slonimsky's personal library, is an original copy of Charles Ives's 114 Songs containing annotations in the composer's hand. The collection also contains rare printed materials from the former Soviet Union, including some music in pamphlet form. Saladini finds the Soviet-era books and pamphlets "especially interesting" and thinks that these materials "may not exist anywhere else."
Nicolas Slonimsky, a self-described "failed wunderkind," was born in St. Petersburg, Russia, on April 27, 1894, into a notable family of Russian intellectuals. His earliest piano teacher was his aunt Isabelle Vengerova. Later he studied at the St. Petersburg Conservatory with Vasili Kalafati and Maximilian Steinberg, both of whom were pupils of Nicolai Rimsky-Korsakov. After the Russian Revolution, Slonimsky took some composition lessons with Reinhold Glière in Kiev and later, in Paris, became secretary and assistant to Serge Koussevitzky.
In 1923 Nicolas Slonimsky came to the United States, where he studied composition with Selim Palmgren and Albert Coates at the Eastman School of Music. He wrote articles about music for various publications and, in Boston, conducted the Pierian Sodality at Harvard University (1927-29) and the Apollo Chorus (1928-30). In 1927 he organized the Chamber Orchestra of Boston and gave the first performances of works by Charles Ives, Edgar Varèse, Henry Cowell and others. In 1945-47 he became lecturer in Slavonic languages and literature at Harvard University. He later moved to Los Angeles where he taught at UCLA in 1964-67.
Among his musical compositions are Studies in Black and White for piano (1928); a song cycle, Gravestones, set to texts from tombstones in an old cemetery in Hancock, New Hampshire (1945); and Minitudes, a collection of piano pieces (1971-77). His only orchestral work is My Toy Balloon (1942), a set of variations on a Brazilian song, which calls for the explosion of 100 colored balloons at the climax.
In 1947 he published Thesaurus of Scales and Melodic Patterns (1947), an inventory of tonal combinations, and Music Since 1900, a chronology of musical events (1937; 4th edition 1971; supplement 1986). He became editor of Thompson's International Cyclopedia of Music and Musicians (4th to 8th editions; 1946-48) and of Baker's Biographical Dictionary of Musicians (1958, 1978, 1984, 1991). In 1988, Perfect Pitch, his autobiography, and Lectionary of Music, a "reading dictionary" and compendium of musical definitions, appeared. Among his other writings are Music of Latin America (1945), The Road to Music (1948), Lexicon of Musical Invective (1952, 2000) and innumerable encyclopedia entries, newspaper and periodical articles, program and liner notes, most of which are preserved in the Library of Congress collection.