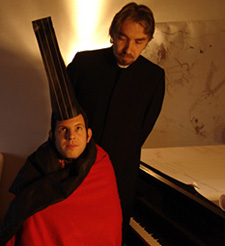 Haber and Vadim Sakahrov get serious about art.
Last night I went to see the Irish composer, Jennifer Walshe's (b. 1974) XXX_Live_Nude_Girls!!!—a 45-minute opera for two singers, chamber ensemble, and puppeteers who handle a house full of nymphomaniacal Barbie dolls.
The house, of course, was packed.
Walshe created an intricate score that sounds free and utterly precise at the same time. She creates counterpoint from a cellist quietly strumming open strings with the hair of a dismembered doll against a singer playing a plastic toy guitar, against a clarinetist who has to fiddle with an FM receiver until he picks up a station that works. Sometimes this comes off as very 1960; sometimes it really works, creating a transfixing lo-fi jigsaw puzzle of sound.
Also on the program was Lucia Ronchetti's Pinocchio, una storia parallela, a 10-minute micro-opera for four male singers from the Neue Vocalsolisten Stuttgart, a breathtakingly amazing group. The work explores Pinocchio's characters through a lens even darker than Collodi's original version. (And if you are only familiar with the Disney version, you should acquaint yourself with the "uncut" version.)
Ronchetti (b. 1963), who studied with Grisey and Sciarrino, manages to explore a huge array of vocal techniques while creating a taut, expressive, and dramatic work. She has several theater pieces under her belt that sound fascinating, including Hombre de mucha gravedad (2002) about the paintings of Velasquez and Anatra al Sal (2000), an 8-minute madrigal with several cooks discussing the proper way to cook a duck.
There were unresolved, unheard, imperfect parts—it wasn't a perfect evening. But it was the first concert I've been to in Rome that has really taken a chance.


Vadim Sakahrov's photos of other AAR fellows (L to R) Lisa Switkin, Kate Gilmore, and Caveh Zahedi
Back at the ranch, the Joseph Brodsky Memorial Affiliated Fellow Vadim Sakahrov interviewed some of the fellows, scholars, and artists, having them talk—seriously—about their work, while dressed up in some way that was decidedly un-serious.