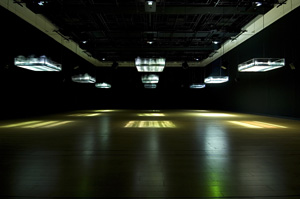 FUKUNAGA Kazuo, used with permission of NTT InterCommunication Center.
Imagine if AT&T or Verizon owned and operated a media art museum with the stated purpose of encouraging dialogue between technology and the arts—a museum with a core theme of communication that produced events, performances, workshops, and also commissioned new works while maintaining a permanent collection of significant media art pieces from all over the world. You would then be imagining what the Japanese communications giant NTT has given the world: ICC, or the NTT InterCommunication Center, housed in a skyscraper just outside of Shinuku. Since its opening, ICC has been actively introducing media art works which employ new electronic technologies, and I often include the museum whenever I'm showing someone from out of town around. The permanent collection is always interesting, with pieces like Gregory Barsamian's stroboscopic tour de force Juggler never failing to engage. ICC even keeps an anechoic chamber on hand and has commissioned composers to create works specifically for the environment. (Readers of Cage's Silence will remember his famous anecdote about his experience inside one of these rooms, which led to his seminal 4'33. )
On my last two visits to ICC, I was glad to be able to experience LIFE—fluid, invisible, inaudible…, a collaboration between Shiro Takatani, a visual designer and founding member of the media-theater troupe Dumb Type, and Ryuichi Sakamoto. LIFE—fluid, invisible, inaudible… is simple yet deep in its fundamental concepts, important in its themes, and excellent in its realization.
One enters a darkened room where nine aquarium-like tanks, made from acrylic, are suspended. Each is partnered with an overhead projector about ten feet above, and two hanging speakers that are closer to the floor. These define nine stations where people cluster to experience the installation while lying on their backs on the floor. Each of the nine tanks contains seven cm of water which serves as the basis of a dynamic screen for images beamed from the projectors above. A system of small, silent pumps roil the water, while man-made fog waxes and wanes inside the tanks. The fog and the percolating water adds an incredible dimensionality to the projected images, and it is a truly magical and engrossing experience to lie on one's back, watch, and listen.
The sequences of images and sounds are different for each station, and are generated randomly. In Sakamoto's words:
In the music, there are about 30 or 40 sound groups, and each time the order of the groups is different. And when you have spent all the 40 groups, they will shuffle again to get another order…so every time is different. The images, too.
The sounds for LIFE—fluid, invisible, inaudible… are mostly sparse, subtle fragments, deliciously recorded instrumental textures mixed with noise, historical sound clips, radio transmissions, water sounds, some spoken dialog, and more. According to an interview I read, many of the sounds (and visuals) were collected and expanded from Sakamoto's media gesamptkunstwerk Life, which was composed in 1999 and which weighed in at 130 minutes of kitchen sink, with an aesthetic impact much less deft than this installation. The deployments of selected sounds at ICC were wonderful to experience in their own right. As the two speakers in the station where one is lying provide a perfect stereo image, the sounds from other stations are clearly part of the aural soundscape and provide a multi-dimensional, if diffuse, total environment.
Sakamoto is one of Japan's most politically engaged artists, having worked hard to use his prestige to try to head off the US invasion of Iraq, stop the construction of a nuclear power plant in North Japan, and other causes. While the randomness of LIFE—fluid, invisible, inaudible… seems to obviate meaning, in fact the themes of war vs. peace along with environmental peril in the 21st century seem to somehow ring through.
Originally commissioned by YCAM—the Yamaguchi Center for Arts and Media—it is a nice thing that LIFE—fluid, invisible, inaudible… has a portability and scale that allows it to travel. It would be great if you could have a chance to experience the piece someday. Meanwhile, it's running in Tokyo until November 4.