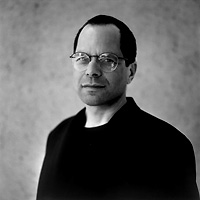 San Francisco Jazz Festival Founder and Executive Director, Randall Kline
Photo courtesy of SFJAZ
At the end of the month, SFJAZZ kicks off its 19th annual San Francisco Jazz Festival, presenting a range of live performances from classic jazz to the avant-garde, tributes to legendary artists, and premiere performances of specially commissioned works. The festival performances will be held at venues across the city from October 24 to November 4.
This year's 12-day fest includes concerts by a roster of performers such as the Dave Brubeck Quartet, Charlie Haden's Nocturne, and the Brad Mehldau Trio, among many others. In addition, bassist Vernon Alley will receive the 2001 SFJAZZ Beacon Award presented by Stella Artois. Inaugurated last year, the annual award recognizes "a member of the Bay Area jazz community who has played a vital role in preserving the traditions and encouraging the growth of jazz in the Bay Area." Last year's award was given to drummer Eddie Marshall.
Festival founder and executive director Randall Kline explains that the award is intended to honor "a musician that's part of the San Francisco community who has been a beacon, a lighthouse. Vernon is the very definition of beacon." The 85-year-old jazz veteran has been singled out this year for his service to the community, both on and off the stage. A concert in honor of "The Legacy of Vernon Alley" will include appearances by saxophonist Noel Jewkes, trumpeter Allen Smith, and Alley himself. Alley's own performance history includes stints with the Lionel Hampton, Count Basie, and Duke Ellington orchestras. He has also led his own series of groups, hosted jazz shows on radio and television, and served on San Francisco's Human Rights and Arts Commissions. On a personal level, Kline describes him as "just a really sweet and nice guy. Everybody loves him. He's someone who personifies what being a jazz musician is and being a good person and living a good life, and being creative and affecting other people. That's Vernon."
Also announced in advance of the festival, Charles Lloyd has been awarded the 2001 SFJF Commission. Accompanied by Indian tabla maestro Zakir Hussain, Lloyd plans to premiere a work dedicated to his great friend and collaborator, the late Billy Higgins. He spoke at length with us about Higgins and the upcoming premiere. Read more.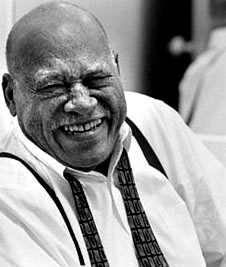 Beacon of the San Francisco jazz community: Bassist Vernon Alley
Photo by Jason Doiy
Pairing the two great musicians seemed a natural fit to Kline, who initially proposed the idea. "It's a wonderful combination of two open minded musical personalities that come together." But beyond that Kline has no expectation for the piece the two will perform in Grace Cathedral.
The venue itself will add something special to the performance. Kline explains that when the cathedral was completed in 1961, Duke Ellington was commissioned to write a piece of sacred music to consecrate the space. "So the place itself lends itself to a spiritual feeling. Obviously it's a church, but beyond that music has always been a part of this church and jazz in particular has always been a part of it." The hall has a seven second echo which presents special programming challenges, but Kline says that it also "adds to the spiritual intensity of a concert there. These solo lines are things that echo through the air that you hear in a very different way than you would in the concert hall."
The festival began in 1983 as a small community event dedicated to artists who resided in the Bay Area, but with musicians in the area such as Joe Henderson, Zakir Hussain, Stan Getz, Bobby McFerrin, and Tony Williams, the festival was hardly provincial.
And what began as a small festival grew into a renowned event backed by an organization that now also presents a spring season of concerts under the artistic direction of Joshua Redman, free summer concerts throughout the Bay Area, educational programs in the local schools, and adult education programs. "We've grown into the second largest jazz organization in the country, outside of Jazz at Lincoln Center," Kline says with a smile in his voice.
San Francisco may not boast the sheer number of jazz musicians working in New York, the recognized capital of jazz, but San Francisco does have it's own rich performance history and tradition. Kline has also found a very sophisticated audience active in the Bay Area, the second largest jazz consuming population in the country. "I don't want to say it's easier here but we found a way to communicate what we do and program a certain way that speaks to a lot of different audiences and people support the concerts and the educational activities here."
Tickets and additional information about the festival can be found at the SFJAZZ Web site, www.sfjazz.org.