The role of great album artwork in enticing a listener into a great recording has changed. We now seek out specific pieces, or even pieces of pieces, read about them, listen to them online, download them. But what about the visual component compelling the listener into a new experience with the aural?
My latest fascination is with Command Records. Josef Albers, the brilliant abstract artist/color theorist, designed many of the album covers. Command Records, begun in 1959, attracted audiophiles with its combination of well-recorded groovy sounds (albums called Persuasive Percussion and Provocative Percussion) coupled with minimalist album design that truly reflected the content of the music.
Look at this art. Does it not make you desperate to plug in your turntable? (Do you own a record player?)
The first Persuasive Percussion album cover, with its floating groupings of 12 dots, reminds me of Stravinsky's Perspectives on New Music logo, with its commentary on the same 12, plus 1.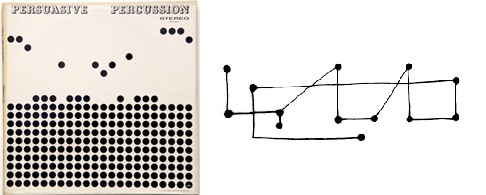 Persuasive Percussion album cover (left) and Stravinsky's Perspectives on New Music logo (right)
Just tonight the latest album arrived: Big Bold and Brassy. In one of life's truly cosmic moments, opening the record I found something that I've been looking for for years—Milton Babbitt used to go on and on about this song—and finally its Big Bold and Brassy self appeared. Here it is, lounge-fabulous, "When Yuba Plays The Rumba On The Tuba."