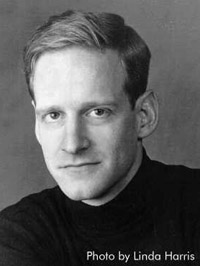 Lowell Liebermann
Photo by Linda Harris
The Dallas Symphony Orchestra's composer-in-residence, Lowell Liebermann, submitted a set of Three Impromptus, Op. 68. The Three Impromptus were written to commemorate the centennial of Yaddo. Stephen Hough gave the premiere at Alice Tully Hall on May 4, 2000. The title refers back to Schubert, according to Liebermann, because the pieces contain "a little bit of the spirit" of the older composer. "I use a kind of repetitive rhythmic idea as a taking-off point," Liebermann explained, something that Schubert also did in his two sets of impromptus.
Though the Three Impromptus were written with Hough in mind, Liebermann claims that he never tailors his music "too specifically" to the abilities of specific performers. "I generally think of the ideal performer who can do anything," he explained. The Impromptus are currently being recorded by David Korevaar as part of a two-CD set of all of Liebermann's piano music due out on Bridge in the near future.
Other new works by Mr. Liebermann include Rhapsody on a Theme by Paganini, commissioned by the Indianapolis Symphony for conductor Raymond Leppard's farewell concert in May 2001, and a score commissioned by Tokyo's NHK Symphony to celebrate its 75th anniversary later this year.
Lowell Liebermann, who received his D.M.A. from The Juilliard School, made his Carnegie Recital Hall debut as a pianist at the age of sixteen, performing his Piano Sonata, Op.1. In 1996, his opera based on Oscar Wilde's The Picture of Dorian Gray met with critical and popular acclaim.
Mr. Liebermann's Piano Concerto No. 2, commissioned by the Steinway Foundation as part of its 21st Century Piano Project to coincide with the American Symphony Orchestra League national conference, was given its 1992 premiere by Stephen Hough, conductor Mstislav Rostropovich and the National Symphony Orchestra.