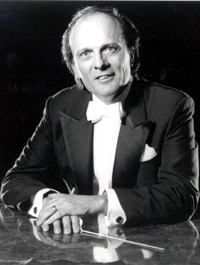 Zdenek Macal
photo by Vidal
On September 28th at 8 p.m., Zdenek Macal conducted the Manhattan School of Music Symphony, marking his appointment as Director of Conducting Studies and Artistic Advisor for the School's orchestral program. The concert featured Richard Danielpour's Celestial Night, alongside works by Mozart and Beethoven.
Mr. Macal has a longstanding working relationship with Mr. Danielpour, a fellow Manhattan School faculty member. He originally commissioned Celestial Night for the New Jersey Symphony, where Mr. Macal is Music Director, for their first concert at the New Jersey Performing Arts Center in 1997. For this year's opening concert, Macal programmed Danielpour's Toward the Splendid City. The conductor has also recorded a CD of the composer's music, featuring both of these works, with the Philharmonia Orchestra for Sony Classical.
The idea of a deep commitment to the works of a single composer is not new to Macal. During his tenure as Music Director of the Milwaukee Symphony, Macal championed the music of Roberto Sierra, inviting him to serve as Composer-In-Residence, and conducting some of his works thirty or forty times. Macal is very proud of the fact that he was influenced Sierra's ability to secure a contract with a publishing house. "When publishers saw that [his works had received] a hundred performances from me, they got excited. That is [my] work, building the career of the composer, doing service to the music."
Macal first heard Danielpour's music while he was still conducting in Milwaukee; the first piece he heard was the orchestra piece First Light. He likes Danielpour's music because he finds it "very dramatic and rhythmical. There are lots of colors, but basically there is rhythmic energy." According to Macal, Danielpour has labeled him his "favorite conductor" because he, like the music, has "so much energy."
At the time of the interview, Maestro Macal had already led Manhattan School students in the first rehearsal of Celestial Night. He was very pleased that they could sit down and read it. "It is rhythmical stuff, very difficult," he commented. He credits this partly to the high level of technical proficiency now expected of incoming undergraduates. "The level is so high…this is not the first time I have done a contemporary piece and the students [have done] a great job." Macal also feels that contemporary repertoire is actually easier for students to grasp than, say, Mozart or Beethoven. "The stylistic things, the phrasing and articulation in Romantic and Classical music, that is what gives me the most work," Macal explained. "They are closer to Danielpour, they understand that, because [the music contains the sounds of] of New York, [and] they understand the streets of New York."
As Director of Conducting Studies at MSM, Macal will supervise the studies of two conductors at the post-graduate level. Macal feels that it is important for his students to learn contemporary scores, but that basically "if you can conduct Beethoven, you can conduct Stravinsky or Bartók." Macal appears to perceive the biggest difficulty in approaching contemporary music is complicated rhythms. He believes that for his young conductors, the ability to handle complicated rhythms is absorbed, to some extent, from the world around them, perhaps obviating the need for further development in the classroom. "The young generation has [such a] strong rhythmical sense. Young people hear rock, jazz, commercials on TV…there is much 'beat' in our lives, maybe too much."
Macal's students seem to absorb contemporary music with ease, and he would like to see audiences behave similarly. At the same time, he understands the malaise of many listeners. He believes that the prodigious fragmentation of styles over the last one hundred fifty years is to blame. "If you go from Mozart to Beethoven to Berlioz and Wagner, the difference or turn-over is not so big. Beethoven had patterns of accents in his music that anticipate[d] Berlioz and Wagner. However, if you take from 1950 to 2000, the step ahead is huge." Then there is the proliferation of music sources in the twentieth century: TV, radio, recordings, the Internet. Macal feels that this has caused composers to desperately search for styles that are original. And unfortunately, "the audiences [can't] absorb the amount of stuff coming at them." Macal described it this way: "If you liked a certain style, like a certain color of lipstick — in Beethoven's time, there were just one or two colors! Now, there is a whole spectrum, [that may include] many colors that you don't like."
As Music Director in New Jersey, Macal has also conducted premieres of pieces by George Walker and Anthony Newman. In March 2001, Macal will conduct the premiere of a new concerto for flute, Flauta Carioca, currently being written by Thomas Oboe Lee for Bart Feller, Principal Flute in the NJSO. Also in the spring of next year, Macal will guest conduct Philip Glass' new timpani concerto with timpanists Jonathan Haas and Richard Holmes and the St. Louis Symphony.