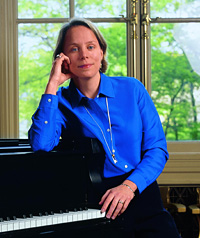 Augusta Read Thomas,
CSO Composer-in-Residence
Courtesy Northwestern University Archive
In what is believed to be a first for an American orchestra, the Chicago Symphony Orchestra has received a major gift to endow a composer-in-residence chair. CSO Trustee Cynthia Sargent and her sister, Governing Member Sally Hands, made the contribution that will endow the chair for a twenty-year term. It will be known as the Mead Composer-in-Residence Chair in honor of the sisters' family name. Augusta Read Thomas, composer-in-residence at the CSO since 1997, will be the first to hold the position under the auspices of the endowment.
"As we consider the artistic direction and development of the Chicago Symphony Orchestra, it is imperative that composers be a part of the dialogue," CSO Music Director Daniel Barenboim noted in a statement. "By endowing this chair, Mrs. Sargent and Mrs. Hands ensure that composers will continue to have a voice in shaping the programming of the CSO well into the 21st century."
CSO Association President Henry Fogel also underlined what the gift would mean for the cause of new music. "This gift, securing this position for the next twenty years, will have true impact on our organization's artistic planning and contemporary music activities."
Reached shortly after the endowment was announced, Augusta Read Thomas expressed her appreciation for Cindy Sargent and Sally Hands, "two of the most remarkable and generous people in the universe." She also noted that she hoped the gift would be an example to other patrons to support positions for composers. "The humanity of their endowment deeply touches us and all of us at the Chicago Symphony Orchestra will do everything to make sure that, thanks to their advocacy, new music and composers will thrive. Their gift will have a profound and long-lasting impact on the quality of art music and will hopefully inspire other such endowments at other musical organizations."
The Chicago Symphony Orchestra's composer-in-residence program began in 1987, funded by a grant from Meet The Composer. Under the auspices of the Orchestra Residencies Program, MTC provided financial support and set guidelines that allowed orchestras across the country to work closely with a composer. The CSO engaged John Corigliano as its first composer-in-residence in 1987, followed by Shulamit Ran in 1990. After completing her three-year term, the CSO extended Ms. Ran's residency without the MTC grants or specified funding through 1997. Augusta Read Thomas was appointed in 1997, and recently renewed her contract through the 2005-2006 season.
Thomas credits composer John Duffy, founder and president emeritus of Meet The Composer, "who really started this whole ball rolling 20 or 25 years ago."
After so much work, Duffy says, "this is a happy day that fulfills the goal of the Orchestra Residencies Program. May other orchestras follow Chicago's lead, and may CSO resident composers in generations to come write glorious music that reaches from Chicago to people across the globe."
Duffy explains that the endowed chair is the desired conclusion for the residency program. Begun in 1982, the residencies were intended to "allow the composer to become part of the orchestra family," Duffy explains, and then MTC's involvement was intended to self-destruct in ten years and the orchestra would continue the program by setting up an endowed chair of its own. "A number came close," Duffy says, "but then there was the crunch and that money went to general operating expenses."
The CSO succeeded, however, and Duffy hopes the endowment will allow the program to "go on until there is no more music. In other words, forever."
Duffy speaks very highly of Thomas, whom he considers a "remarkable person," and the work she has done in securing the endowment. "It's tough for composers, but tougher for females. So for the endowment to be the result of Augusta, a young woman, is tremendous."
The endowment does not specifically affect the terms of Thomas' current contract, which she says, "was already set and is very elegant and for which I am very thankful," emphasizing that she is "forever indebted to the CSO for their encouragement and assistance." In addition to composing for the orchestra (her current contract includes three commissions), Thomas' responsibilities include collaborating with the artistic staff to program the orchestra's critically-acclaimed contemporary music series MusicNOW. She also reviews new scores sent to the orchestra and makes recommendations regarding programming, gives pre-concert lectures, works with visiting composers, and attends rehearsals of new works.
Thomas receives scores from around the world, from composers of all ages and backgrounds, from publishers and from individuals. "One can categorize them in many ways but the most interesting way is based on the sound of the music itself," she explains. "There are works in conservative 'languages' and others in more experimental modes-and everything in between. At this stage of the 20th century, music is many different things to many different composers and what I receive reflects that diversity. Since I enjoy the prospect of new musical experiences, I try to listen receptively and so this aspect of the residency is very natural and informative for me."
A search for quality, regardless of the style, remains her guide as she sorts through the works. Beyond that, she says, "We must preserve the tradition but we must also remember that the tradition is one of change. No one can own music and freeze it in time. It is greater than all of us and it will change whether we want it to or not. We should be glad about this and celebrate it-be visionary-and seek quality."
Music, she feels, "is a central and sustaining element in our existence" and above all else, a collaboration important to society at large. "It is a cooperative art of communication, a counterpoint between canon and creativity, between monumental complexity and the immediate clarity of the simple. As such, music is a civilizing influence on our species. It teaches us civility, citizenship, modesty, charity, and compassion."
"What is of greatest concern," Thomas notes, "is that music leads its listener to new aesthetic engagements with the world and themselves and that with each new piece we hear or write that listeners and composers continue on a life's journey of self-discovery. To all music, every listener brings his or her own unique perspective but music can offer us all comfort, and replenish us, restore, help us to go on. It can make us feel exhilarated and give us hope as we contemplate humanity and the cosmos."
In addition to her CSO post, Thomas is currently professor of composition at Northwestern University's School of Music. She has written a number of works for the Chicago Symphony Orchestra, including …words of the sea... (1996); Orbital Beacons (1998), a concerto for re-seated orchestra; and Ceremonial (2000). Most recently, Aurora, a piano concerto co-commissioned by the Berlin Philharmonic Orchestra and Chicago Symphony Orchestra, received its American premiere by the CSO, with Daniel Barenboim conducting from the keyboard in September 2000. The orchestra performed Aurora at London's BBC Proms in September 2001.