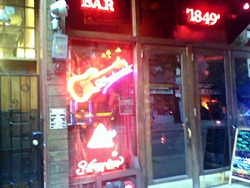 Mama don't allow no instruments in here
Over the weekend, I was wandering around Greenwich Village with a violin case on my shoulder. It wasn't as hot as it is right now, but it was still pretty hot, so I stopped in a Bleecker Street bar tantalizingly named 1849—I'm a sucker for old places, even reconstituted ones—to have a drink. But before I could soak in this fairly recent attempt to recreate a 19th century saloon, the bouncer refused to let me past the doorway, claiming that musical instruments weren't allowed in the establishment. To add insult to injury, the place features live music from time to time and even has a neon beer sign in the window outlining the shape of an electric guitar. All musicians, and indeed anyone who appreciates listening to music (which is almost everyone), should boycott this place.
However, despite this seeming like a protest rant against a stupid policy (which it admittedly is in part), it got me thinking about a larger compositional issue that's gnawed at me for many years. There was a long period of time, including the time I was studying composition, when composers were taught that it was somehow better to compose away from an instrument than at one. The tone was basically that real composers shouldn't have to rely on an instrument as a compositional crutch, and the implication was that if you did, you were somehow an inferior composer, a member of the great unwashed, or perhaps even—horror of horrors—a pop songwriting hack.
At the time I was rather intimidated by all of this since it was difficult for me to pry myself away from the piano. And even after accustoming myself to composing in instrumental isolation occasionally, I frequently still find myself going back to test things out either on a keyboard or, more ideally, on the actual instrument for which I'm writing. That is, unless I'm messing around with microtones, but when I do, my computer's MIDI playback now thankfully allows me a similar dependency.
Admittedly, getting away from an instrument allows your mind to be opened to ideas beyond your own physical limitations, which is the justification for instrumental abstinence. Often, though, such an avoidance can result in music that is not really suited to the instrument for which it is supposedly written. While it is crucial to stretch yourself whenever you are attempting to create something new, it seems completely antithetical to the physical reality of music to declare a prohibition on musical instruments during the compositional process.