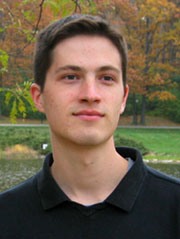 Michael Djupstrom
Michael Djupstrom, 22, of Ann Arbor, MI, has struck up the band and won the first bi-annual ASCAP/CBDNA/Frederick Fennell Prize Competition for Young Composers of Concert Band Music. Named for Frederick Fennell, ASCAP member and founder of the CBDNA, the $5,000 prize has been awarded to Djupstrom for Homages, an 11-minute work for large wind ensemble. It will be performed in March at the National CBDNA Conference at the University of Minnesota.
Djupstrom wrote Homages while a Fellow at the Tanglewood Music Center last summer, commissioned by Frank Battisti, who premiered the work with the Boston University Tanglewood Institute Young Artists Wind Ensemble. "I just happened to see the posting for this competition and thought I might as well apply and I was lucky," Djupstrom says. "It's nice."
The award was established earlier this year to encourage gifted American composers (between the ages of 18 and 30) to create new works for concert band. Fennell himself explains, "So much of my life has been concerned with the wind band and its critical need for an ever growing repertory. This joint project is something I could only dream of—seventy years ago—and here it is, thanks to ASCAP and the CBDNA."
A recent graduate of the University of Michigan where his principal composition teachers included William Bolcom, Susan Botti, Bright Sheng, and Erik Santos, Djupstrom says the recognition couldn't have come at a better time. Though he has also received awards and scholarships from the American Academy of Arts and Letters, the Theodore Presser Foundation, ASCAP, and the University of Michigan, he is just getting started professionally. "I just graduated so I don't have the connections to start getting commissions on a large scale to support myself, but because this is the first time this award has been given, they're putting a lot of publicity into it and it will be played at a national conference where most of my market will hopefully be sitting right in the audience."
As proof of the award's significance, Djupstrom already has another commission as a direct result, a new work for concert band. Though band music has admittedly not previously been his focus, he has some new ideas and is excited about exploring the medium. "I don't think that teachers generally encourage it because it seems less glamorous than writing for orchestra and people tend to regard it less highly, but frankly there are a lot more people interested in playing band music. Plus, a lot of the traditional band music uses a lot of tutti scoring and doesn't really explore the different colors in a band. I think it defeats what's great about it."
The ASCAP composer/judges for the 2002 competition were: David Del Tredici, Dan Welcher, and Daron Hagen. The conductor jurors selected by CBDNA were Thomas Duffy (Yale University) and Charles Peltz (New England Conservatory of Music).
Eli Marshall (age 25, Philadelphia, PA); Anthony Suter (age 23, Ann Arbor, MI); and Matthew Van Brink (age 24, Allston, MA) received Honorable Mention citations from the jury. Their works will be circulated to ensembles performing at regional CBDNA conferences.