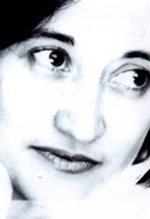 Mary Ellen Childs
Photo by Warwick Green courtesy of Meet the Composer
Mary Ellen Childs is known for creating both instrumental works and compositions that integrate music, dance, and theater. She will be working in the Minneapolis area collaborating with students and instituting a series of performances in public spaces with her performing company CRASH.
MOLLY SHERIDAN: What type of activities have you used to start your residency?
MARY ELLEN CHILDS: My own performing group, which goes by the name of CRASH, is involved in a number of projects. We're a percussion group but very movement based and very visual, almost a cross between dance and music, and we're doing a series that we call Street Noise this summer. We're going out into outlying areas around the Twin Cities and playing festivals and fairs. This past weekend we played at a sculpture garden and they let us get up on the sculptures and play them and it was just wonderful. The idea is that not all performances have to take place in the concert hall where the audience comes to you and they just sit passively. We're going out to our audience. I'm next collaborating with a visual artist, Norman Andersen. He is a sculptor who creates work out of old musical instruments and old musical instrument parts. Most of his sculptures are mechanized so they move and make sound, and I've asked him to create a piece that would be both its own sound maker but is also playable as a musical instrument. We plan to take that to all three sites.
MOLLY SHERIDAN: Were you already established in the Minneapolis area or did you have to relocate for the residency?
MARY ELLEN CHILDS: I've been here 15 years. And I was really looking for partners that I already had good relationships with so we could go right into the work rather than take a year to get to know each other.
MOLLY SHERIDAN: What made you want to devote three years of your life to this type of project?
MARY ELLEN CHILDS: Well, it's a direction I was already going in so it just sort fell into place as the right next thing to do. It let me go forward with the kinds of projects that I'm interested in. I'd already been doing a little bit of work with Eden Prairie High School students and with St. Olaf college students and was enjoying that very much. And it also seemed very natural to go out into a community, for instance with these Street Noise performances, because we want to connect with an audience when my group performs. To put it in arts administration terms, its sort of audience development when you can go to your audience. The idea for that sort of happened all by itself after we had the opportunity just to rehearse outdoors. We always attracted a crowd and then people got really curious and they'd ask questions. It was always just really enjoyable to interact with a general public.
MOLLY SHERIDAN: It seems many of your projects are really interdisciplinary. Is that a background you have too? What got you interested on approaching music that way?
MARY ELLEN CHILDS: Well, I grew up dancing and did some choreography early on, so yes that's very much in my background. I started incorporating sort of a bigger picture thinking into my music about 15 years ago where I paid attention to the staging and what the lighting looked like and how the players entered and exited the stage, or setting up percussion instruments in a certain way for their visual effect. And then I started incorporating movement into what I was doing with players, in percussion music especially. It just sort of progressed naturally for me.
MOLLY SHERIDAN: Because this project does place you so much in the community, what do you think is your role as a composer in today's society?
MARY ELLEN CHILDS: As an artist. I mean I think it really is about creating work and bringing it to people in whatever form, whether its doing it in a theater or bringing it out to the street and then whatever that does for people — whether its pure kinetic enjoyment, or pure kinetic enjoyment plus it reminds them of clapping games that they did when they were a kid, or it just sorts of surprises and delights people because it was something unexpected. I really think it's simply that. I do other things in the community connected with students or helping the Southern Theater arrange a concert series, but I really think the most important thing is the creation of work and what that does for people. So it's really being an artist.